Mandy, a very sweet nailblogger from the Netherlands is my Catrice, Essence and P2 dealer, LOL! She's kindly helped me get quite a few polishes from the new collections, so a big thank you! is in order :)
Today I have swatches of a relatively new collection from Catrice, called "Enter Wonderland". Me, being a total Catrice fanatic, had to get all of the colours, after all, they're cheap and in general of a very good quality - if you haven't tried Catrice yet, compare the quality to Gosh - only with a much, much better price and brush. The brush is wider than China Glaze but more narrow than OPI.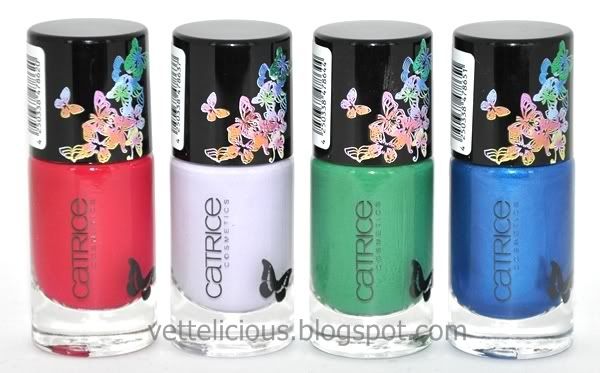 Catrice - Enter Wonderland
#1 - Forbidden Apple is a dark red with some serious pink, almost berry hints. No matter what light I tried, this wouldn't show up right - it's darker, more berry in real life. It had a great formula, borderline jelly, and I used two coats. No topcoat or basecoat.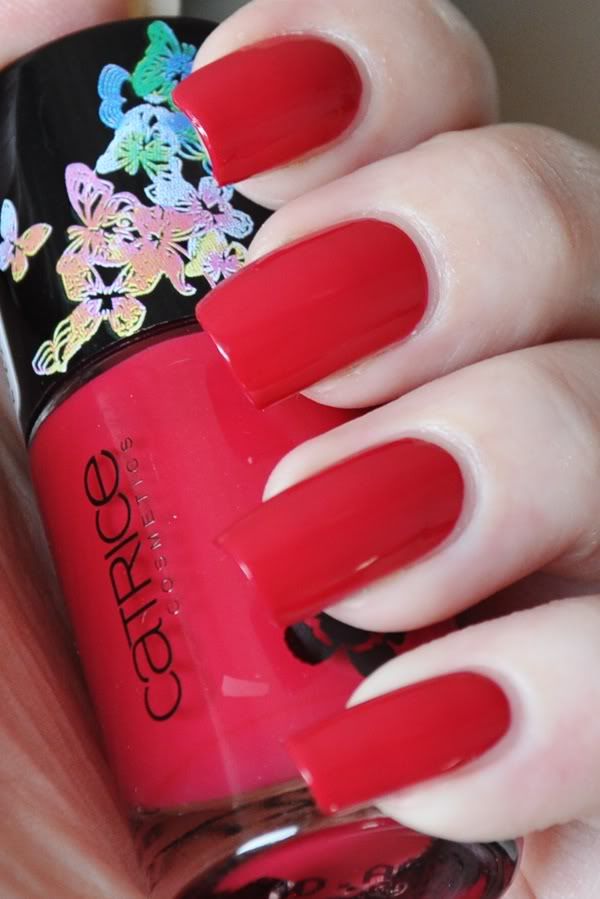 Catrice - Forbidden Apple
#2 - Lavenderlicious (love the name! LOL, guess why ;) is a very pale lavender creme. I had a few application issues, it was a little hard to even out. It was also sheer, and so I had to use three coats for optimal coverage. The colour is not flattering for my skintone at all. Quite frankly, this is the worst Catrice polish I've tried - I was disappointed to say the least. I expected a perfect creme. Again, no topcoat or basecoat.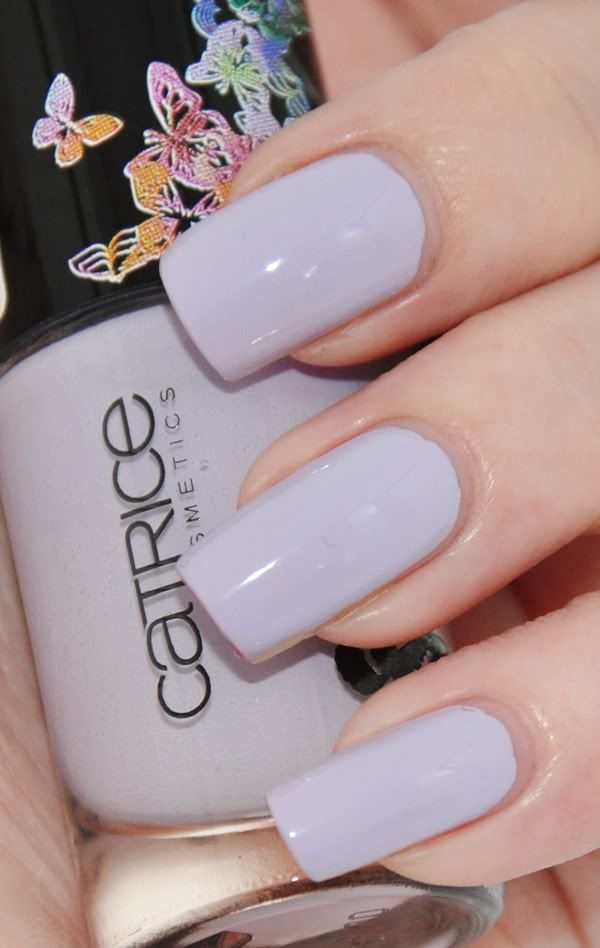 Catrice - Lavenderlicious
#3 - Wonderland Green Card is a green creme that will, if you're a green lover like myself, make you think of Don't Mess With OPI - I haven't compared these yet, but I think they are terribly close. Formula was good and the colour is great, 2 coats. No topcoat or basecoat.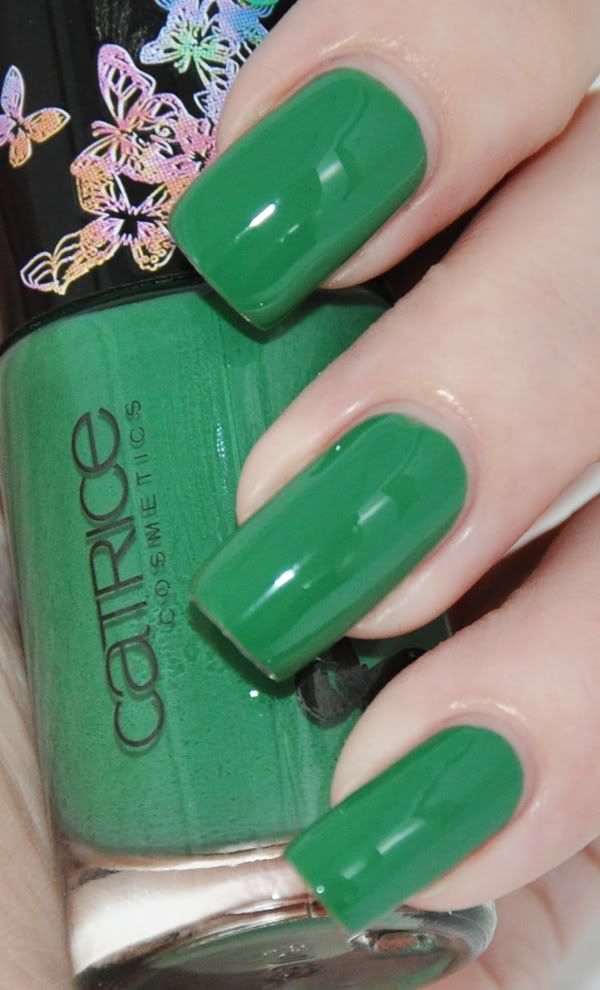 Catrice - Wonderland Green Card
#4 - Miracle Heaven is a frosty shimmer blue. I believe I used three coats for coverage, but this one might be good for layering purposes. It's quite brush-stroke-ish, even more in real life than the pic shows. I added a topcoat on the middle finger to see if I could hide the brush strokes, LOL, you can see how that turned out. While I love the colour, especially on the picture, frosty shimmers just aren't something I wear everyday, so I will have to try different purposes for this one. I have a little voice telling me it'd be amazing with flakies on top, so I will have to try that out!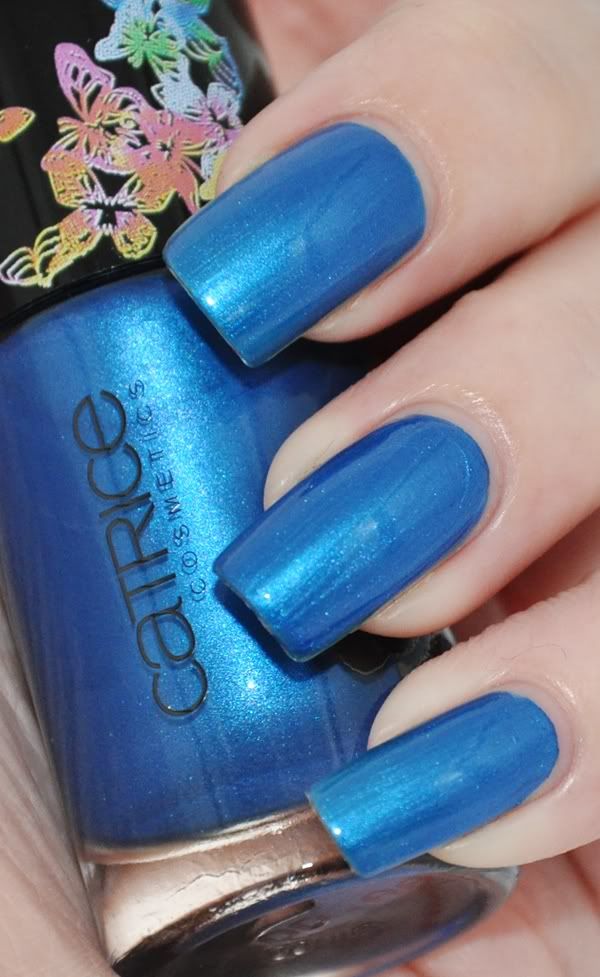 Catrice - Miracle Heaven
While there is nothing unique in this collection, I am loving Forbidden Apple. I don't own many reds and this one is a nice addition! Lavenderlicious is one of those colours you have to love to be willing to make work, and for me, it's not worth it. Wonderland Greencard had a great formula, but I think it's too close to some of my go-to greens - if you don't own anything like it, it's a great and cheap basic green :) It's not its fault that I horde(spelling?) greens as if my life depends on it, lol. Miracle Heaven is too frosty for me, but I hope it'll be good for stamping or other (maybe flakie) purposes... I must admit that the more I look at this colour, the more I like it. It's that darn flakie voice!

In general, this collection is a teeny bit out of place this season IMO - it's far too dark (except Lavenderlicous), and the colours are a bit basic to me. I would have loved to see an orange or funny greenish hue. I hope Catrice is doing a killer collection for Summer. What do you think about this collection?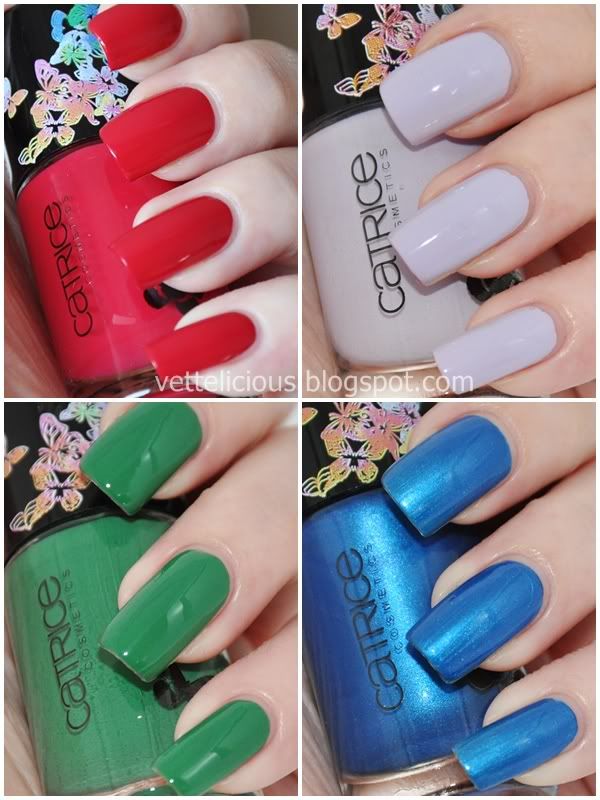 I have a lot of other new Catrice colours to show you, but alas, I only have two hands so you'll have to be patient on me ;) I promise you that some of them are far more spectacular than these - and if you need proof that Catrice is really worth trying, check out some old swatches I did;
Run Forest Run!
or
Sold Out Forever
(which is a great dupe for Chanels much coveted Jade). Catrice is really getting the hang of hidden shimmers, but that's a story for another day. Oh, and I feel like I should mention that the quirks of application on some of these are only annoying compared to other Catrice polishes - like I mentioned previously, it's such a great brand, and I guess I'm acting like a spoiled child right now LOL!
What's your favourite Catrice polish? Is there any of them you would love to own?
♥ Vetten