Following my previous post, today I want to show you the second colour Mad Beauty sent to me for review - Pistachio Cream!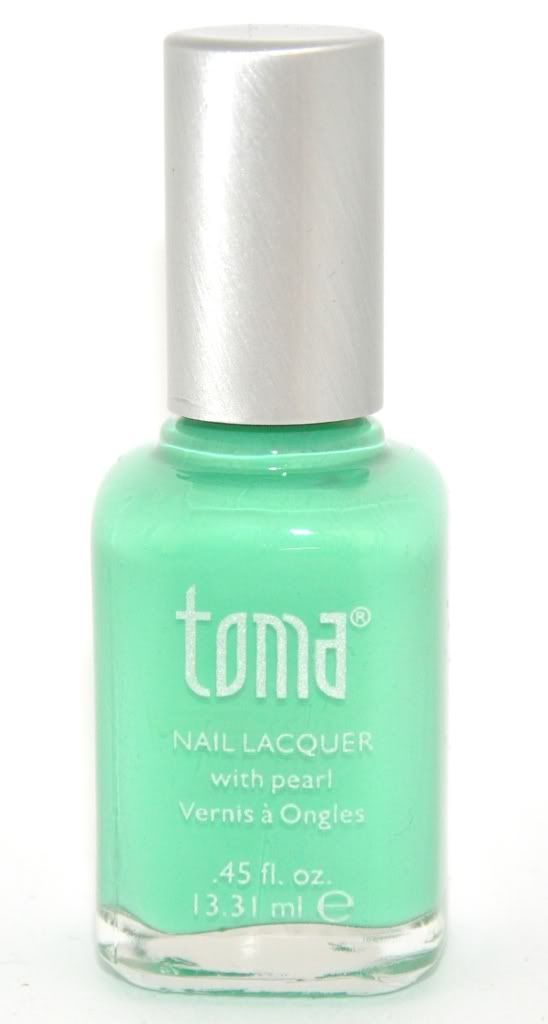 As mentioned in my previous post, Toma Nail polish is produced and sold by Mad Beauty Ltd in the UK. You can buy their nail polish from
Nailtopia
, at the price of roughly 6£ excl. tax.
Toma nail polish comes in bottles of 13.31 ml and I quite like the bottle - it's heavy and of nice quality. One thing I do like to mention is that it's 3-Free and not tested on animals, but it does contain Formaldehyde Resin, so it's not 4-Free. The smell of it was not overwhelming, neither was it particularly pleasant (as nail polish rarely is).
Pistachio Cream is part of Toma's Tutti Frutti collection released for Spring 2011, all of them appears to be as juicy as Pistachio.
I was worried Pistachio Cream would be a sheer, runny mess, but I was very surprised when I tried it and it proved to be covering in two coats. A small warning, though; don't apply the coats too fast after each other or you'll end up with bubbles like I did on my right hand (not pictured, lol). It did not bubble on my left hand, as I waited until each coat was dry.
As always, I used my basecoat, NailTek II as base. Whether the colour stains, I don't know - my nails are yellow as it is. I always recommend a base coat, especially when dealing with greens and blues. I'm not wearing topcoat in these pictures.
Pistachio gives an impression of being slightly jelly-ish - it's far from chalky, which is a huge plus in my book!
Toma - Pistachio Cream -inside, flash
Once again, I decided to snap a picture outside as well!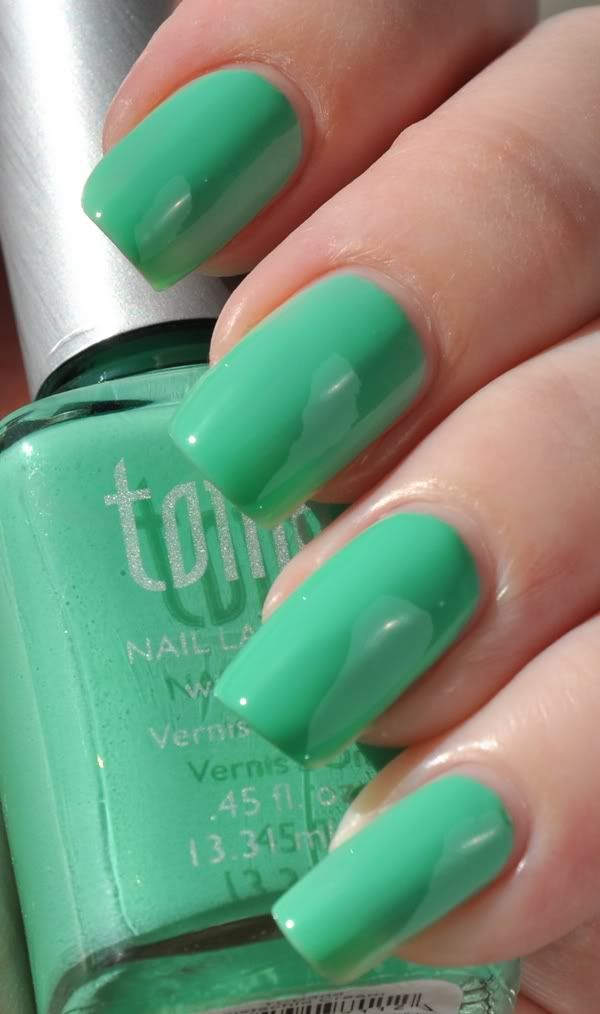 Toma - Pistachio Cream - sunlight
I know what most of you think when you see a mint green: don't I have enough already? Well, if you're anything like me, LOL, you have to have them all! And I was really surprised to see that Pistachio Cream isn't just your average mint green. It's similar to Barry M's mint green and Nicole by OPI's Lifesaver, but it looks slightly greener and more POW! than these. I'm super thrilled I have it as it looks amazing with my skintone! LMK if you want a comparison ;)
♥ Vetten
(The product in this post was provided for review)