Hey girls!
I've been super busy today, been to school and looting from my local drugstores. GOSH make-up were reduced 40% so I had to hoard a few extra of Holographic for Summer, and I also bought something else I've been experimenting with today, which I'll feature soon in a post.. Franken style!
I forgot to take a bottle picture of the beauty I've been wearing for the past 3 days. In fact, I'm still wearing it, as I love it so much! Even my dad complimented it, LOL, I think he like the subtleness for once x) Here's a mani shot I did when I applied it ~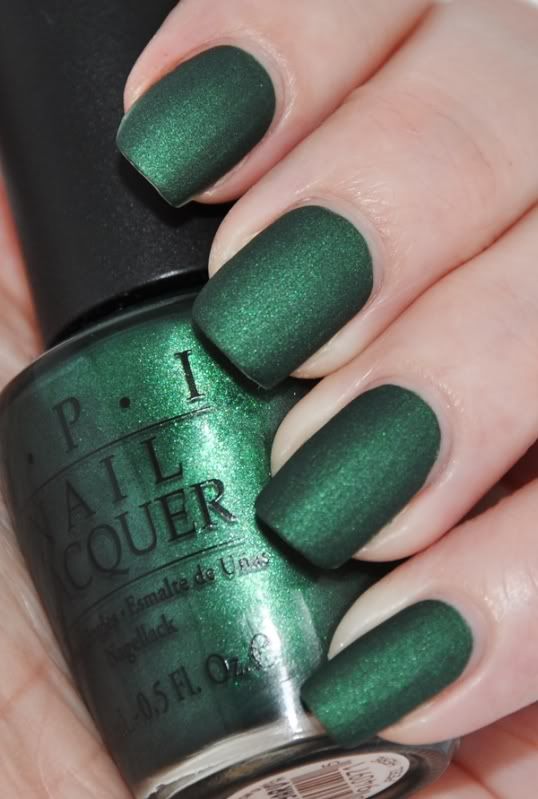 OPI Here Today.. Aragon Tomorrow Suede
Besides for some minor chip wear, it looks pretty much the same today ♥ I love it so much!
I used my regular basecoat, 2 coats of Aragon Tomorrow (and added a coat of Essie Matte About you to prolong wear, after the pics were taken. It didn't make any difference to the finish IMO). This polish is special to me, because LOTR has a special place in my heart ♥ The colour reminds me of the brooches the fellowship wears in the movie. It kind of makes you feel like part of the gang, right? LOL, maybe that part is just me! All that aside, the polish is pretty darn gorgeous! Shimmers look super pretty with a matte finish.
I've been thinking about doing a theme week (as I loved
Ulmiels Illamasqua week
). What would you guys like to see? I can do a brand theme, a colour theme, finish theme... You name it!
♥ Vetten