Gosh polishes were on sale recently - buy one get one free! I, of course, had to take advantage of the offer LOL. I realised I have so many Gosh polishes that I haven't even tried - most of them from previous sales. So, I decided to pull out a few and swatch!
From left to right: Lavender Love (LE), Flamingo, Pink Lady(DC) & Yellow Doll (LE).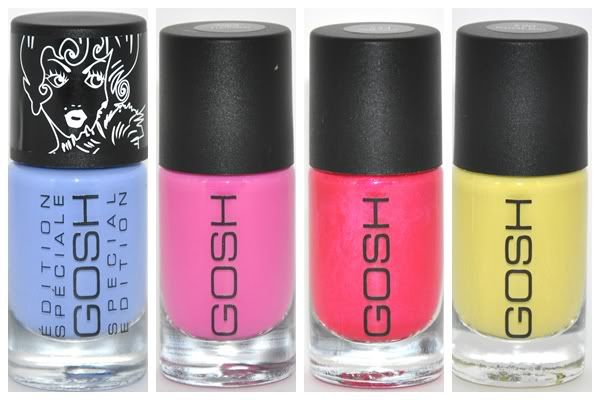 Let's start with Lavender Love, a new colour released for Spring 2011. How this got onto the regular sales display already, I have no idea (neither did the sales staff), but I'm thrilled it did! It's a gorgeous periwinkle blue / purple - in my pictures it's way too blue, but it's impossible to picture correctly.
I used 1-1½ coat - that's right, it's a one coater if you're careful while applying (and undoubtedly if you have shorter nails)! Way to go, Gosh, the world needs more one coaters! This is the second colour I try from this collection, and both have been one coat, gorgeous looking wonders!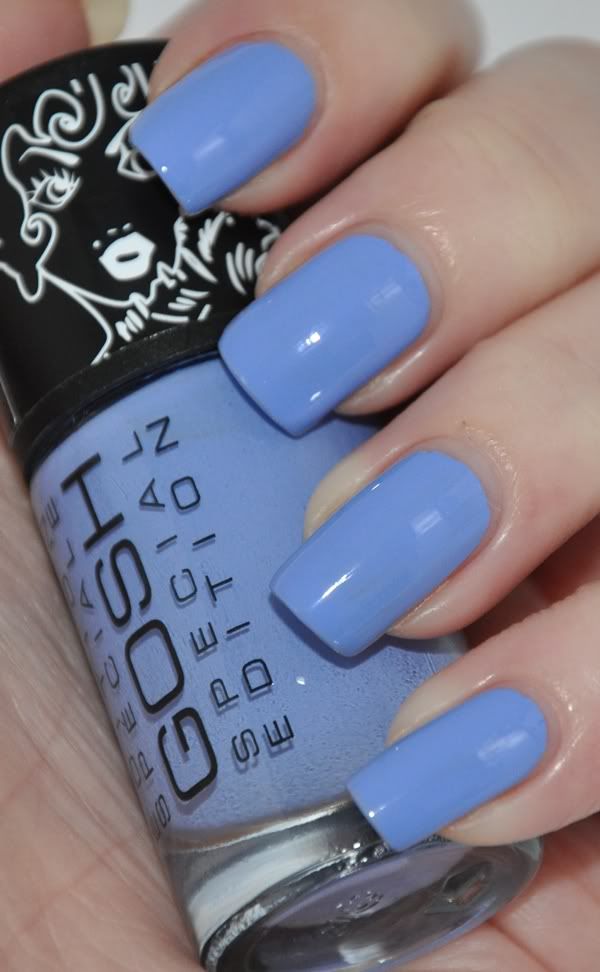 Gosh LE Lavender Love
Up next is Flamingo, a gorgeous soft pink. It's been a part of the regular collection for quite some time but it wasn't until this sale I decided to get it. I was afraid it would be very sheer, but I was so wrong! I want to say it's a jelly, because it really feels like one - but at the same time it's nearly opaque in two coats, so maybe it's a jelly creme? Regardless, I love it! It fits my skintone perfectly, and it feels like wearing jelly on your nails. A very pleasant surprise!
Wearing two coats in this picture. I couldn't really capture the jellyness, but trust me... It's worth a try if you want pink without the heavy feel most pink gives you!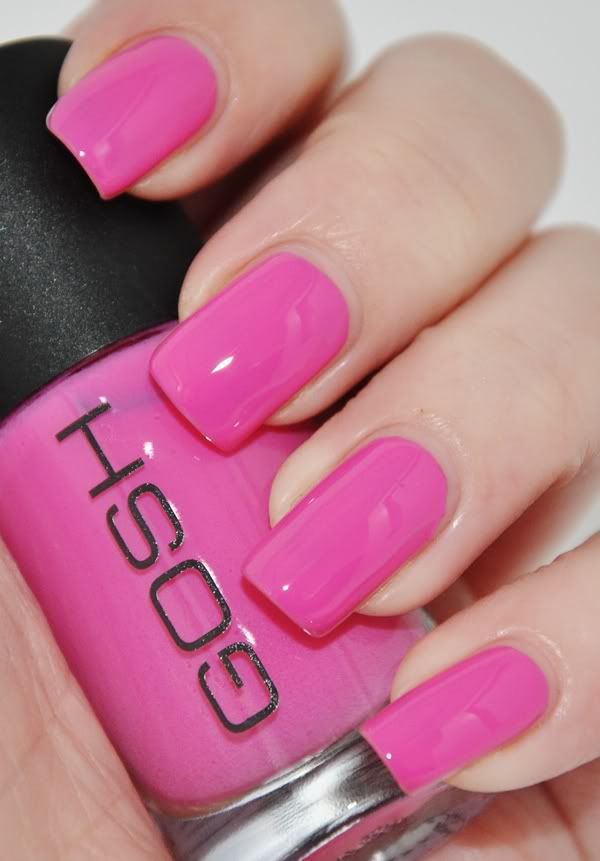 Gosh Flamingo
Next is a dark reddish pink with purple shimmer - Pink Lady. I got this a while ago in a sale, I'm pretty sure it was reduced because it is discontinued. Let me be honest, I didn't think I would like this shade at all, because it has a red undertone and it's a dark pink... But I was wrong. I love it! It looks so incredible in the sun and once again, perfect formula.
I used two coats and it was a dream to apply (in my opinion, shimmers are hard to find with a decent formula compared to cremes - or maybe I've just had bad luck).
Gosh Pink Lady
Now, this one deserves a picture taken outside as well! See how it becomes almost coral? If I ever find an extra bottle of this, I will be a happy camper!
Gosh Pink Lady - outside, direct sun
Last is my little problem child.. LOL! I guess not all could be perfect ;) Yellow doll was part of the 2010 Fall collection, 3 pastels that I'd rather believe is best suited for Spring. Yellow doll looks like a cool/cold yellow in the bottle, but my warmer looking fingers makes it look like a warm pastel yellow. It took me 3 coats to cover up my nail line to the fact that I would wear it, but it was still visible in some kinds of light.
At least it's not a chalky, thick pastel ;) It is, however, a yellow creme I could see myself wearing - it doesn't turn my fingers into lobstery coloured monsters, lol. Yellow is just not a colour I wear that much.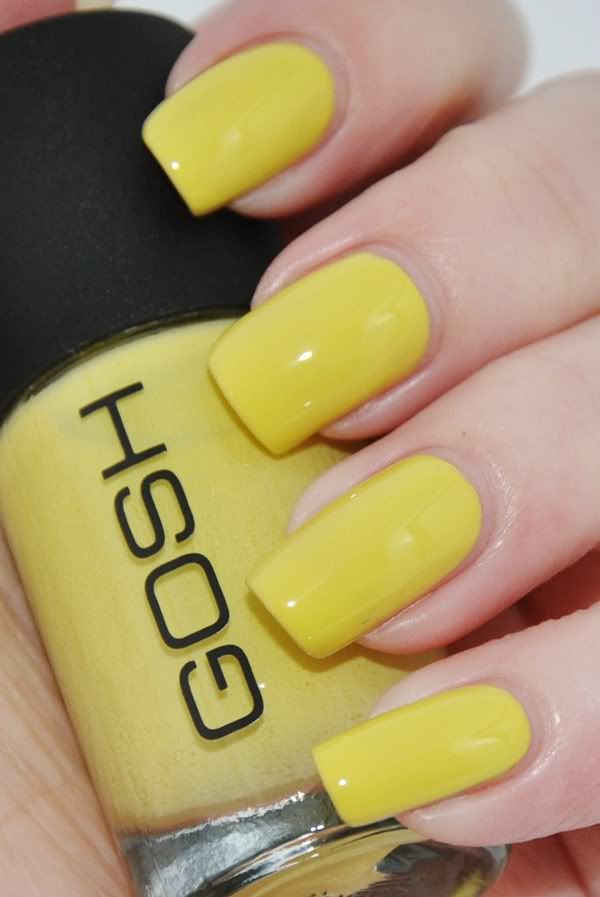 Gosh - LE Yellow Doll
That's all I have for you today... What do you think about the lacquers? Which is your favourite of the four I've showed you?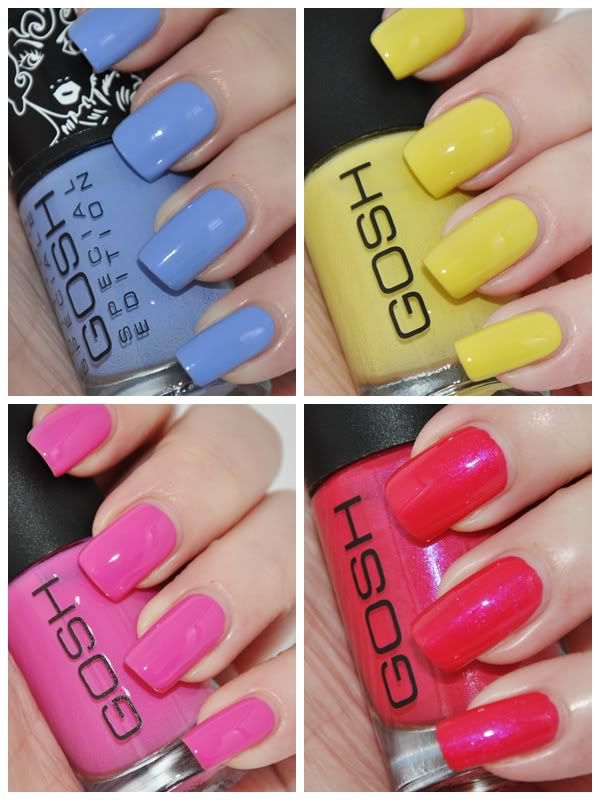 Most important of all: would you like posts like this in the future? Granted, it's not going to be swatches of the newest collections - first of all, I can't compete (nor do I want) with all the amazing lacquerheads out there showing us the newest trends, I don't get my hands on them until they've been out for a while anyway, LOL!, and second of all, I don't buy complete collections unless they all appeal to me (which is rare with collections consisting of 6 or more). It would be random untrieds from my stash instead, some still available, some not. Let me know in the comments! :)
I admit I had quite a lot of fun with these, especially with two of them being much better than I thought! Trying colours for fun will help me use them in the future ;)
♥ Vetten