Wow, my fingers are glowing today! LOL
Illamasqua Radium
I'm a sucker for green polish - everything from dark, forest green to light, mint green seem to appeal to me, and lately I'm beginning to dig vibrant colours (it might have something to do with spring finally being here... I saw the first wasps and butterfly today!)
Radium is from Illamasquas Toxic Nature Collection. It's an in-your-face yellowish green creme with green shimmer. It might remind you of Who The Shrek Are You? from OPI, and truth is the base colour is not very far from it. The only thing making these different enough not to be dupes are the shimmer. Me being a sucker for everything green, I couldn't seem to stop eyeing pictures of this polish online, and I finally decided to order it.
I used NailTek II, two coats of Radium and ChG Fast Forward. I'm not impressed with the formula - it was thick, gloopy and even slightly streaky - I was expecting perfection like with Muse from the same brand :/ It had foamy tendencies like OPI's I Vant To Be A-lone Star, though not as bad luckily. Maybe I'm just horrible at handling shimmers/pearls?
No matter where I looked, people seem to be impressed with this formula... could it be a case of brand-whoring (in lack of a better word, because this sounds so mean) where people are willing to do anything to make it work or is it just me? In general, I think many of us are brand whores to some degree. I will do anything to make a Lippmann polish work, and I'm also somewhat biased of some colours - willing to stretch a little to make it work. I always mention in my post if I think I'm biased, though. I'm never biased because I received a product for free to review! That's my number one rule ;)
Anyhow, back to the polish. It does look greener on the nails than I could seem to capture on pictures, and the colour does change appearance based on different light.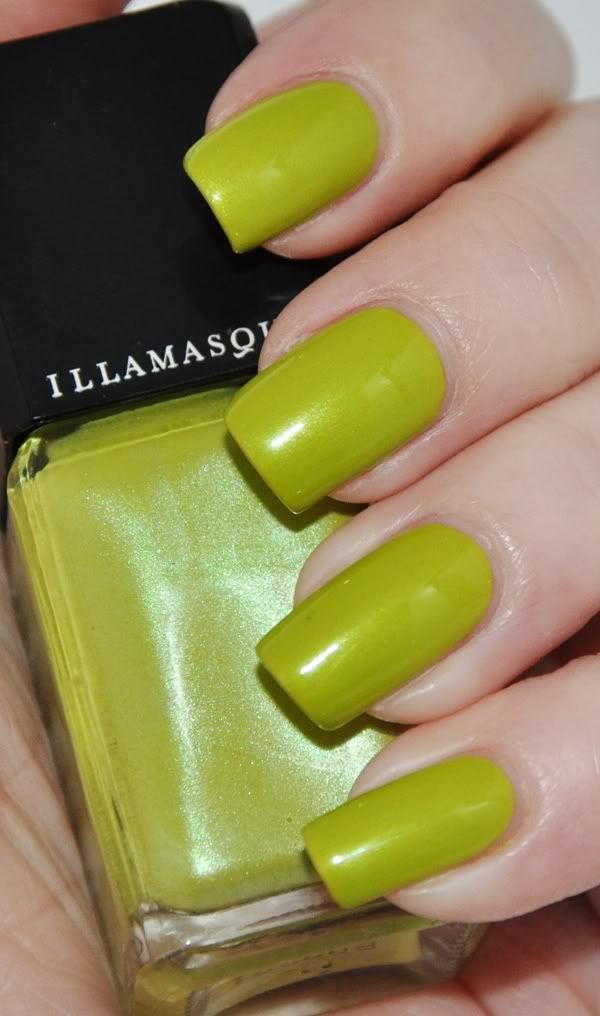 Illamasqua Radium
Overall, I like the unusual colour :) It took some time getting used to, and the formula was way worse than expected. I have yet to try Who The Shrek Are You? as an entire manicure, but I think I like the colour without shimmer just a teeny bit more. Oh well. Radium was a cheer-up manicure for sure, super bright and fun to look at!
I don't mean to offend anyone who expressed love for this polish (and particular naming the application flawless). I was just expecting perfection and was sincerely disappointed when I tried it. Again, it is probably just me not being savvy on applying shimmers like this ;) I just want to highlight my experience as this is a slightly expensive polish.
Oh, and thanks to all of you who were sending well wishes, I really appreciate it! I do feel better today, a visit to a chiropractor helped ease the pain :)
♥ Vetten