Let me start this post by saying that I'm definitely not fed up with crackles just yet. For me, crackle polishes are here to stay. It's a "new" type of finish, just like I'm still loving matte manicures, suede finish, you name it. I just wear whatever floats my boat, LOL!
I recently made a bunch of crackle rings, and I decided to match my manicure to one of them. I'm wearing four polishes: China Glaze For Audrey with OPI's Black Shatter and Wet'n'Wild Black Creme with China Glaze Crushed Candy.
It took me one, thick coat to mostly cover my nails with For Audrey, and Black Creme is a one coater even with a thin-ish coat, so it was a fast manicure overall. I had a few issues getting Crushed Candy to crack right, but I think it's because it has thickened a bit.
I'm including a picture of both hands, and I must say I like the result on the right hand the most (the picture on the left). Big crackles are so beautiful; it really shows the colour underneath it!
Shattered Candy - OPI / China Glaze crackle
And here's a picture of my right hand with the matching ring :)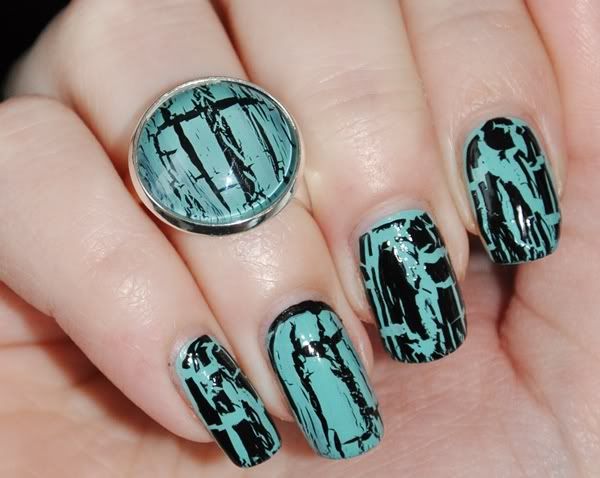 Shattered Candy - OPI / China Glaze crackle
That's all I have for you today!
♥ Vetten