Gosh is one of few Danish make up companies. For as long as I can remember, I've been drooling over their stands in drugstores, always looking at their nail polish. They've always carried exciting, different colours, far away from safe reds and nude pinks. Before I realized I was becoming a nail polish addict, I had a few of their polishes - and it was amongst my favourites. Before this turns into a patriotic post sounding like a commercial, LOL, let focus on what this post is really about - my point being that Gosh is a widely known brand within the nail polish community... And much of it is because of one of their most adored polishes. If there's one polish Gosh is known for, it's Holographic.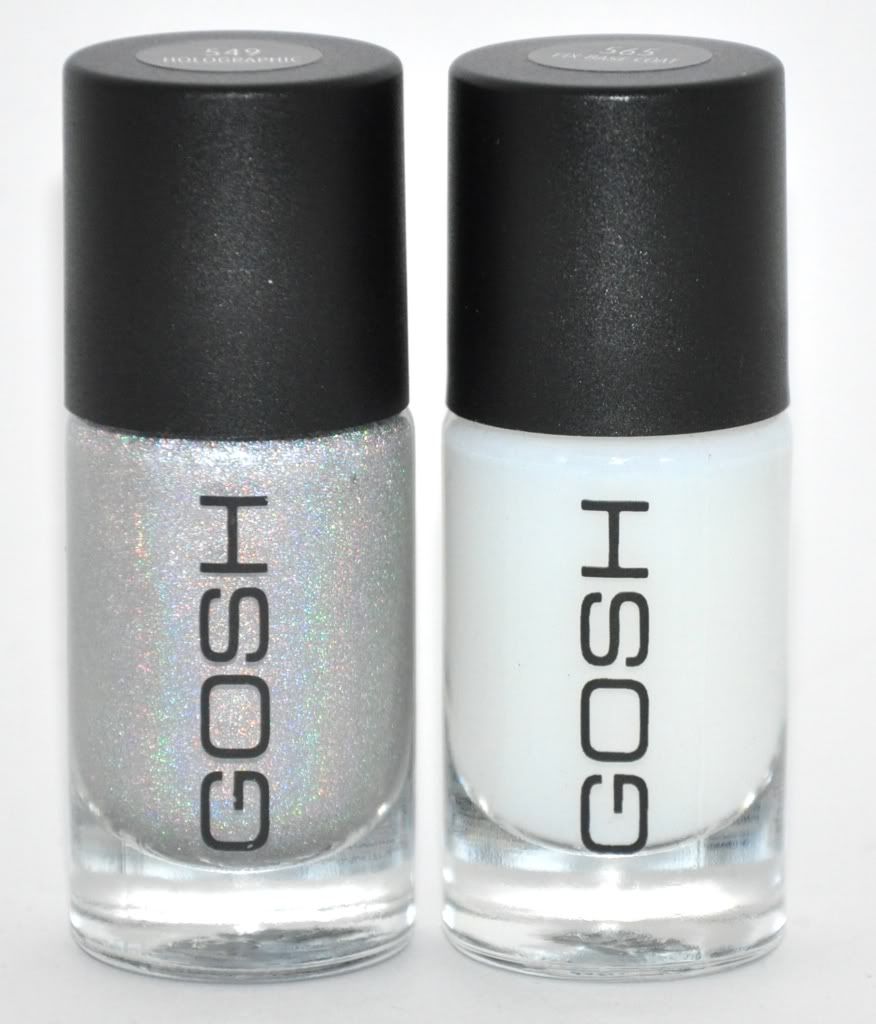 In the bottle, Holographic looks like a silver polish - and that's what I thought it was until I looked up swatches when I started getting into nail polish. Then I had an OMG moment and rushed to the stores the day after, LOL!
Now, it will be a bit of a problem child if you're cheap and don't invest in a good base coat - I conveniently bought the Fix Base Coat from Gosh when their lacquers where 40% off. Gosh even added a sticker to Holographic advising people to use the right base coat. And no, it really isn't just a sales trick trying to get you to invest more money in their products - it will save you many tears and even coats of Holographic.
Fix Base Coat is slow drying, but it's worth it. It dries with what I'd say is a "good-gripping" feel to it. I failed while swatching this; apparently I didn't even out the layer on my ring finger, so the weird blob you can see on my pictures is because of that. I recommend thin coats ;) I used two coats of Holographic, and no topcoat - it dries really fast.
I had a few issues photographing this wonder - in my lightbox, the flash washes out the holo effect, and without, it's back to looking plain silver. I therefore went outside, and although there's a lot of better pictures out there, I think I got a few decent shots (it will be a quest of mine to photograph this properly one day), at least it's better than a post without pictures, right?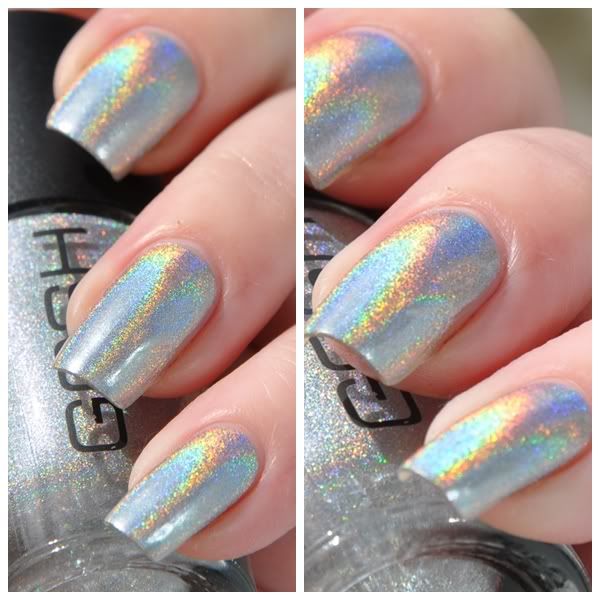 Gosh Holographic - direct sunlight
Gosh Holographic - direct sunlight
Isn't it amazing? The only downside is the dullness inside - which is the reason I'm not wearing this more often. I'm looking forward to be using this in the Summer, being outside most of the day blogging in the shadow.. I'm sure this will keep me good company those days ♥
I contacted Gosh through their danish website, and the rumour is true.. It's discontinued. I'm proud to say, almost a bit embarrassed even, that I emptied all the shops around me while they were on sale. Can you blame me for wanting back-ups? :)
Oh, while I were contacting them, I asked them if they were planning to release new holographic polishes, but sadly, there's no plans about this right now. I'm in the mood to start a petition, LOL! Wouldn't it be amazing to see a dark blue, purple, even green holographic polish? While I accept the effect will be lessened when you add colour to the mix, it would be worth it!

♥ Vetten