Hey everyone! Hope you're having a good week so far :)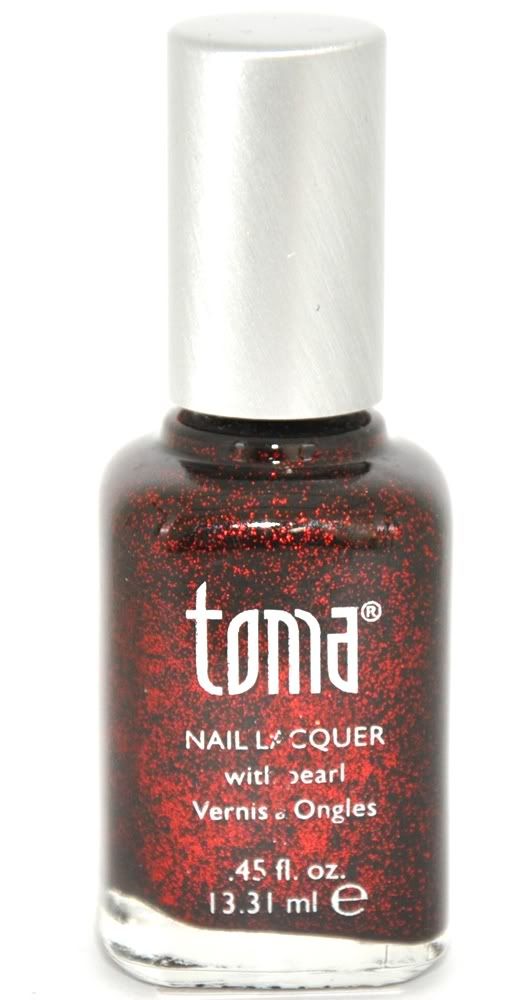 Prima Donna
Today I have a dark, vampy colour to show you. I received 2 Toma nail polishes for review with the help of Julia from Nailtopia. I have never tried this brand before, so I was really excited to be given the opportunity of reviewing these!
Toma Nail polish is produced and sold by Mad Beauty Ltd in the UK. You can buy their nail polish from
Nailtopia
, at the price of roughly 6£ excl. tax.
Toma nail polish comes in bottles of 13.31 ml and I quite like the bottle - it's heavy and of nice quality. One thing I do like to mention is that it's 3-Free and not tested on animals, but it does contain Formaldehyde Resin, so it's not 4-Free. The smell of it was not overwhelming, neither was it particularly pleasant (as nail polish rarely is).
Prima Donna consists of a black jelly base with loads of red microglitter. The brush was very good, perfect for my nails and I had very little clean-up work to do.
I used my regular basecoat, NailTek II and 3 coats of Prima Donna. I was expecting to use more than two, but if you have shorter nails and are a little more careful/use thicker coats, I'm sure you can get away with two. Another idea would be to use a black creme as base colour, as I often do - but I wanted to show you this gorgeous colour on it's own for this review ;)
I decided to take a picture outside as well - this polish really glows in the sunlight! All of the glitter from the first layers shines through the jelly base, making it deep and gorgeous to look at ♥
Inside:
Toma - Prima Donna - inside, flash
Outside: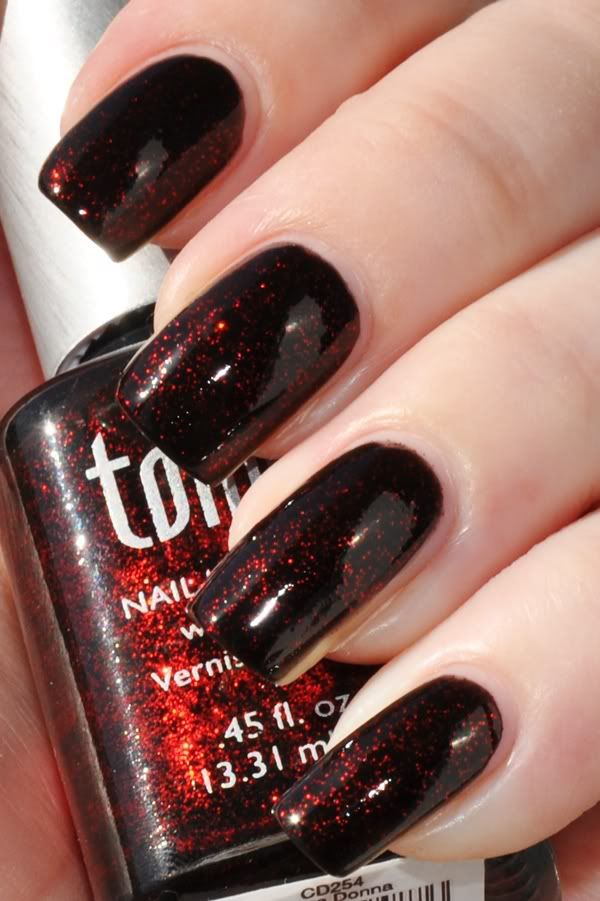 Toma - Prima Donna - outside, sunlight
While the colour is not unique, I absolutely love it. I haven't tried China Glaze - Lubu Heels, so I don't know how they compare, but I own and have worn Eyeko Vampira and while they're very similar, I think there's just a little more glitter in Prima Donna. It would make sense, since Vampira covers after two coats and PD needs three. If I were to choose, I'd go for Prima Donna since the brush is so nice to work with - and the price is very nice, too!
I'm very satisfied with my first experience with this brand. I tend to be rather picky about the details - and the only thing I can put my finger on is that it contains Formaldehyde resin, which isn't an ingredient I steer clear of anyway. This is definitely a brand I'll be keeping an eye on for future releases!
♥ Vetten
(The product in this post was provided for review by MAD Beauy, UK)