Easter has been amazing here, the weather has been warm, sunny and we've had lots of small barbecues, super yummy!
Nfu Oh #62, sunlight
As for most of nail polish fanatics, a sunny day calls for something sparkly in my stash... Since I still have holos I haven't tried yet, I decided to try one; my very first holo from Nfu Oh - #62. It's a nude/champagne holo with a strong pink tone, very warm and flattering if a silver holo like Gosh Holographic makes your fingers go lobstery.
I tried it using two base coats; NailTek II Foundation and Gosh Fix Base Coat... and the difference was enormous.
Applied on NailTek II, it was a nightmare I've never tried before - bald patches, pulls, you name it. It took me three coats and as few strokes as humanly possible for it to look decent.
On Fix Base Coat, however, it behaved a lot better. Two coats was enough, and I could be a bit sloppier as usual applying them, LOL! Promise me you'll invest in this basecoat or Nfu Oh's Aqua Base Coat if you try these super dense holos - it'll save you layers, trouble and annoyance! I can't emphasize this enough ;)
Here's a few pictures of #62 shining in the sun;
Nfu Oh #62, sunlight
Even though it's amazing, it's kind of dull inside. The nude colour make my nails look invisible, lol. Not so fond of these super-fine-particle-holos for everyday use :/ I spend too much time inside.
I decided to knock it up a notch with another similar holo, China Glaze's much coveted Visit Me In Prism. This polish was a total lemming for me, it's my ultimate favourite from the Kaleidoscope collection. A big plus in these are that their rough particles rocks inside too! :) I used one coat on top of #62. It's a shame I forgot to take pictures outside of this combo, it looks less phony/grainy IRL. My flash is trying to kill it, lol.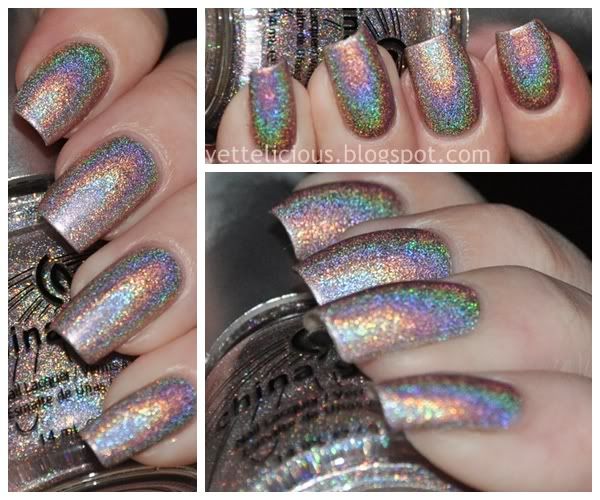 Nfu Oh #62 + Visit Me In Prism, indoors, flash
I'd better show the ring I made as well;
I love the combo!! Visit Me In Prism is quite sheer on its own I believe, so this huge bottle of Nfu Oh serves well as base, lol! Don't feel sorry for #62, it'll get the love it deserves on days I need something neutral for a day outside ;)
♥ Vetten