I showed you Vant from OPI in the previous post - now I want to show you how I knocked it up a notch! :)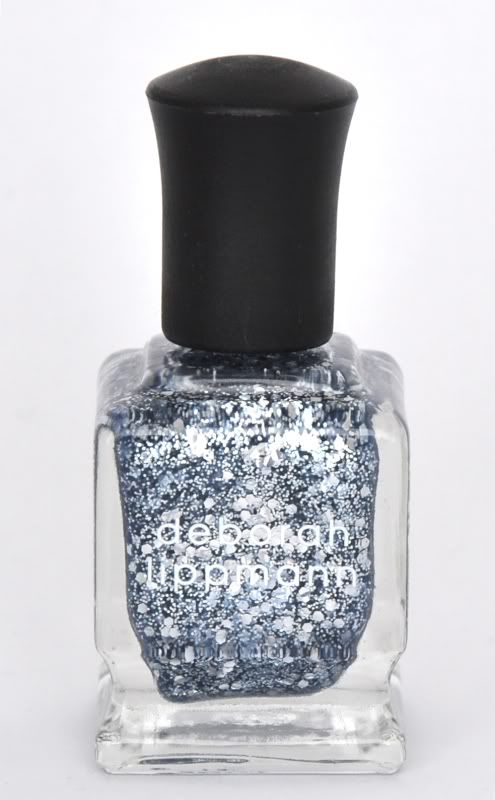 Lippmann - Today Was A Fairytale
Lipmann released two polishes for Christmas 2010 - a silver and gold glitter. I wasn't keen on them at first, but the silver one won me over with it's cute blue-toned jelly base. It's not your regular silver glitter after all!
It wasn't until recently I actually purchased Fairytale. I found a great seller on ebay selling Lippmann polishes for a really fair price and decided to buy the ones I was lusting after - and I had been sending this pretty some jealous vibes looking at pics in other blogs :)
Thanks for winning me over, Catharina
! If you haven't checked Nails By Catharina out yet, you should - it's a super nail blog and she has a great taste in polishes!
So, already wearing Vant, I decided I needed a little glitter and went for Fairytale.
Today Was A Fairytale is a sheer greyish blue jelly filled with silver glitter in various sizes.. And diamond powder. While it contains virgin diamond powder, it's not something that influenced my purchase at all, LOL. It's hardly like wearing big rocks on your fingers ;) It's a sales trick that would win some over, though.
The most thrilling part about this polish is, without doubt, the gorgeous jelly base. It almost looks like a light version of
Lippmann's Rehab
♥ Another thing that came to mind is
Lippman's Lady Sings The Blues
- these three bottles looks stellar together on my shelf!
I think it's easier for you to look at the macro shot to see the glitter, rather than me explaining how it looks.
Lippmann - Today Was A Fairytale
And I have two pics of the actual manicure - it proved to be quite hard to photograph!
Lippmann - Today Was A Fairytale + OPI I Vant To Be A-lone Star
Left is natural sunlight and right is flash inside... I'm not sure how to determine which is the most accurate! In a way, I'd say the sunlight picture, but then again, the colour did alter depending on the light, so they're both pretty accurate ;)
I'm not too thrilled with my decision to use these two polishes together. The jelly base was just too sheer to make a big impact on Vant, my base colour, and I'm left with what looks like a boring silver glitter on top of a blue base. I tried adding another coat of Fairytale on one finger and it looked even worse :/ I think Fairytale lacks depth, at least in my world. I think it would be much, much better over a silver foil, or maybe a dark cornflower blue - maybe even on its own ♥ Lesson learned, though - we learn by trying :) Now you will hopefully learn by my mistakes!
What's your favourite Lippmann - and am I the only one who would wish she'd make more jellies like Rehab? I doubt there will ever be glitters that will top Across The Universe and Glitter In the Air, in my world they are perfection, but I'm always excited to see her new collections!
♥ Vetten