It's time for another review of a product I received from
Nailtopia
! :)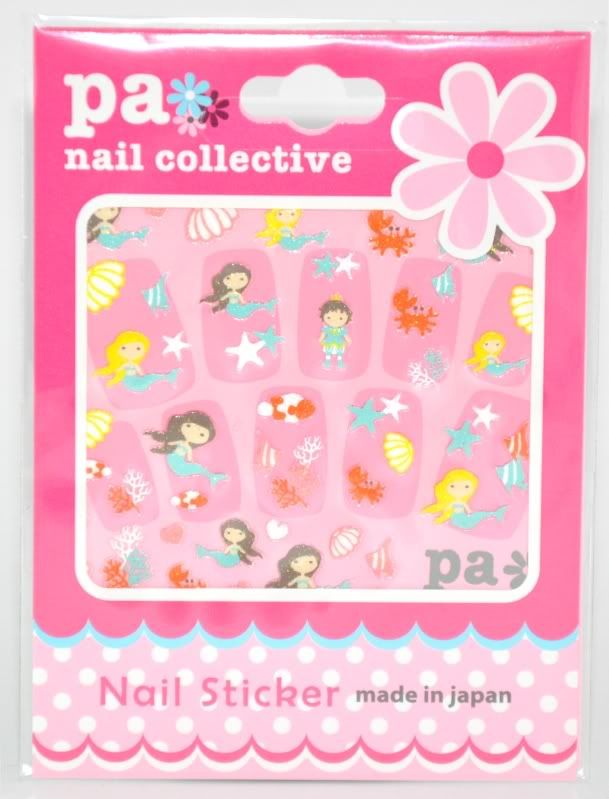 This time it's a cute sticker sheet from Pa, a Japanese brand. Stickers are the same good quality as I've experienced every time I've tried stickers from Nailtopia, very flexible, and these are opaque so they're perfect for dark base colours.
Included in this sheet are adorable mermaids, shells, corals, stars, crabs, fish and one that baffled me a little: a boy! It's inspired by The Little Mermaid written by H.C.Andersen, a famous Danish writer, transformed into one of the most popular cartoons by Disney. This sheet is, very appropriate, called The Little Mermaid ;) It retails for 2.90 £.
The colour theme of these are very light, and I wanted some contrast in my manicure. I started with a dark base colour - Misa's Office Polish-tics.
I then added pointy tips with China Glaze's For Audrey, and also put on a coat of Essence - Glisten Up! on For Adrey, but it didn't come out too good in the pictures. Imagine it's there, okay? :) I also added some dots with a dotting tool to mimic the look of air bubbles. Lastly, I covered it in a thick coat of Fast Forward top coat to prolong the wear.
I had a little issue with the stickers bending upwards in the sides, and I suspect it's because I touched them too much before placing them (note to self: buy a very small tweezer instead of touching all the sticky part with your fat fingers, silly!). I thought I'd better mention it so you don't make the same mistake ;) Sadly, it is visible in the pictures.
Office Polish-tics, For Audrey, Glisten Up! and Pa nail stickers from Nailtopia
I really dig the colour combination! Orange, dark blue-based grey and Audrey is a winner in my book. And the stickers are really adorable for Summery manicures, I will definitely use these on my toes when the time comes! Once again I'd like to thank
Nailtopia
for providing these for review, I had so much fun thinking of manicures with them!
Do you like the colour combo, and what's your opinion on the stickers?
♥ Vetten
These were provided for an honest review