Yes - I went on a quest to find the perfect base for one of my pretties!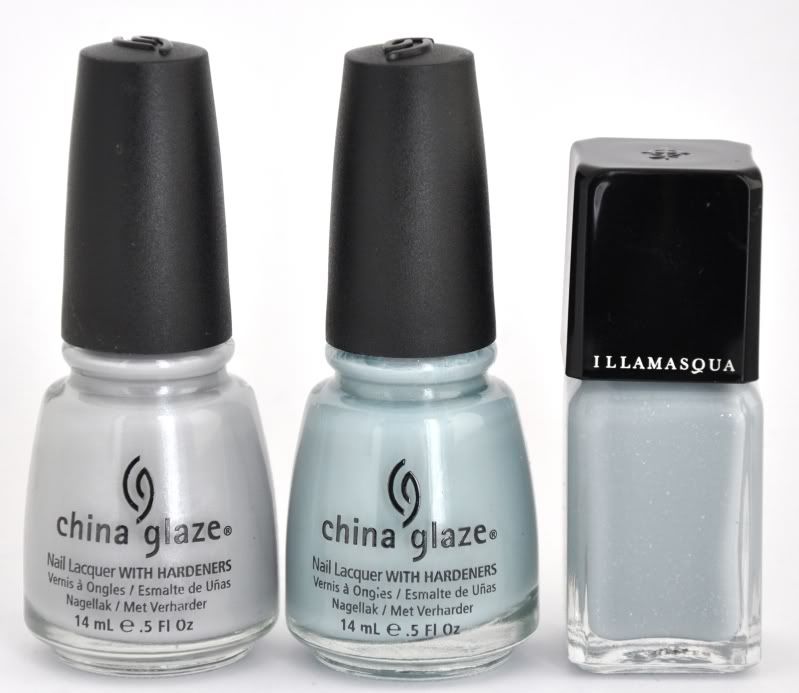 ChG Pelican Grey, Sea Spray and Illamasqua Raindrops
I adore Raindrops. It's a gorgeous sheer grey jelly-creme base with small, random sized white flecks scattered in the base. It's a unique polish in my collection, and I haven't seen anything like it.
It was one of three winners in Illamasquas competition last year, giving the winners the opportunity to create their own colour. An amazing opportunity for a nail polish fanatic, yes? :)
However, I get the impression quite a lot of people were disappointed with Raindrops because of its sheer-ness. I knew this when I ordered it, I still bought it as I was madly in love with it. At the time I didn't know how hard it would be to find a perfect base colour!
Raindrops is a soft, ever so slight blue-toned light grey. As luck would have it, China Glaze included two soft greys in their Anchors Away collection - Pelican Grey and Sea Spray. Having just received Pelican Grey, I grabbed all three bottles and started testing! Initially, I also tested Raindrops over Recycle, but I couldn't make it work - Raindrops would be streaky and Recycle is more leaning towards yellow brown than blue so I don't think it's that good of a match - but at the time Raindrops was released there wasn't so many soft greys out there with a blue base (I don't know of any) so back then I completely understand people opting for Recycle.
Anyway, on to the swatch! While Raindrops over Pelican Grey might look streaky, it wasn't - it's the reflection ;) From top to bottom: Sea Spray + Raindrops, Pelican Grey + Raindrops, Sea Spray + Raindrops
Sea Spray + Raindrops, Pelican Grey + Raindrops, Sea Spray + Raindrops
All 3 nails are two coats base colour and one coat of Raindrops. I just knew Sea Spray would be perfect ♥ Sea Spray is my chosen colour of this season, it's an amazing colour and perfect for layering!
If you love Raindrops in the bottle, it's now very much possible to achieve without too much of a hassle - and you save your high-end polish too :) Hope this was useful, even if only a little. LMK what you think about Raindrops!
♥ Vetten