It was a real steal, too! :)
This colour has been haunting my wishlist ever since I got into nail polish and particularly international brands. It was released one year before I bought my first China Glaze polishes - which oddly were the 2010 Halloween specials!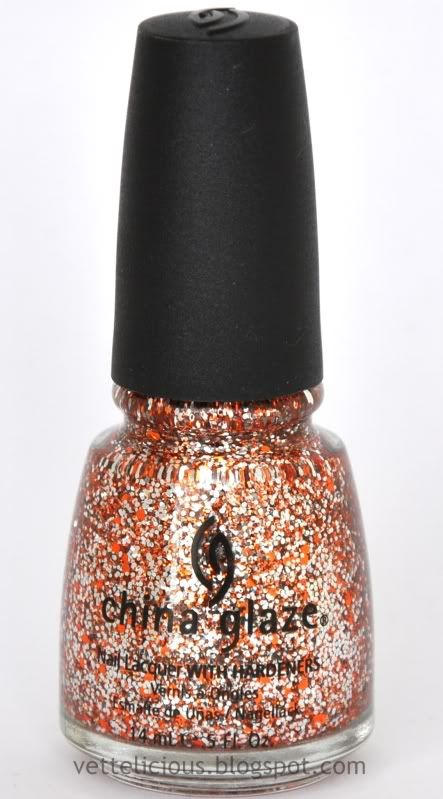 China Glaze Spellbound
Spellbound was released in a set of four polishes for Halloween 2009 by China Glaze. It was sold with Liquid Leather, White Out and Ghoulish Glow (all of which I have, but haven't used as of yet. I really only got this set for Spellbound).
It is a clear base packed with orange and silver glitter in all kinds of sizes - there's even a few big orange hex glitters thrown in here and there. I believe it was intended as a topcoat, but it is so dense you will have no problem making full coverage with three or four layers, I think. I haven't tried it yet though :)
So... What's all the hype about this polish, you say? I think it's a very different take on a halloween polish. At first sight it looks a little tacky, but on the nail it's gorgeous - and very much full of bling! I couldn't stop staring at my nails wearing this ♥ I will difinitely be using it outside of the Halloween Season although I can't wait to make a manicure with it next year in October.
For my manicure I decided to wear it as topcoat over a black creme - my ever so faithful one-coater, Black Creme from Wet'n'Wild. I can't express how much I love this cheap black as base for my glitters, but I can say it's definitely worth the money. It's also great for frankens!
I used one coat NailTek II, one coat Black Creme, one coat Spellbound. I believe I used a coat of Fast Forward, but I honestly can't remember. Spellbound will dry a little gritty so a coat or two of top coat is highly recommended to smooth the finish and make it last longer.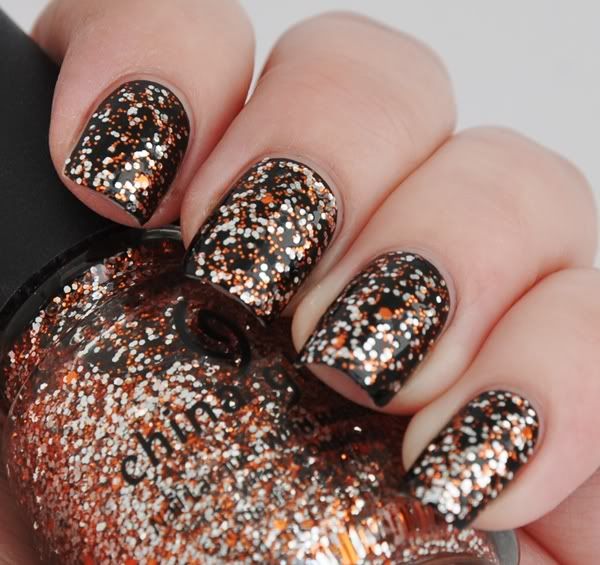 China Glaze Spellbound
While Spellbound is an amazing colour, I must say it was hard to photograph. I had to tilt my fingers a bit which explains the different angle the picture is taken it. And of course I forgot to wrap the tips this one time. D'oh!
I have to try Spellbound over other colours one day - it would look fun over China Glaze Peachy Keen, I think. And a bit more diva-like on top of a white creme. The possibilities are endless - especially within the orange spectrum of colours!
Do you have Spellbound, or do you want it? Do you think it's as amazing as when it was released, giving that we have had an amazing flow of glitters ever since? Personally, I think this is a winner in every collection - even in a sea of glitters, it's super unique ♥
♥ Vetten