I can't tell you how much I've been looking forward to Spring. I miss the green sprouts, warmer weather and most of all - sunshine! I have so many holographic polishes I haven't even shown here, because I don't bother wearing them when the sun is hiding - and the last months it has been very sporadic and only a few hours a day at most I've seen the sun. Until Monday, that was!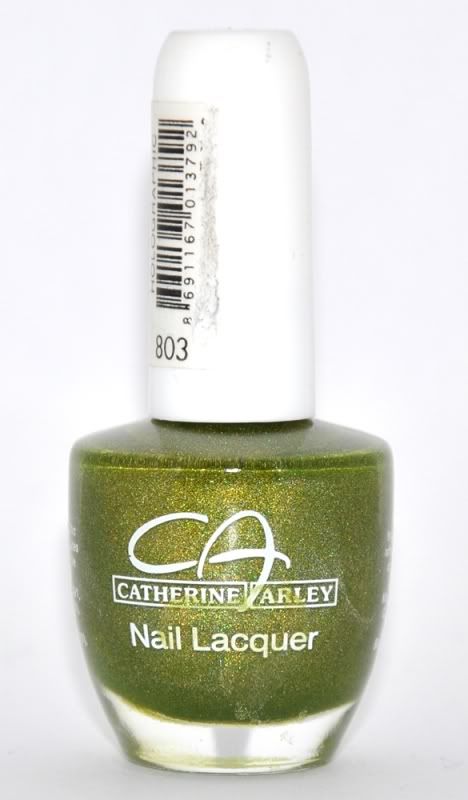 Catherine Arley #803
I went to check out my glass cabinets and #803 sent me green vibes - like a stubborn sprout determined to grow despite the harsh weather - and I went for it. I was very sceptic at first; it's a yellow based green and those don't tend to play well with my skin tone. How very wrong I was!
Let me start by saying that #803 is not a perfect linear holo. It is also not as holo as many other great holos, but it has a gorgeous, spunky colour and that's what won me over. I ordered a back-up of this one along with it, and the CA logo is different - as is the holo effect! I will try the other one next time, and I suspect it is just a tiny bit more holo. Time will tell.
As CA holos has a reputation for being on the sheer side, I decided to find a green creme and use one coat just for good measure. OPI Greenwich Village looked like a good candidate, and so I used one coat. Still not covering my nail lines, I decided to stop anyway - it was only to help #803 a bit. ;) I then proceeded to use two coats of #803, one coat of ChG Fast Forward and I was done!
Excuse the smeared polish on the bottle - I didn't notice until I had already taken all the pictures and it was too late. I'm pretty sure I didn't spill any polish, so it must've been there all the time. Oh well, I'll remove it before next time ;)
This polish is hard to capture on pictures. I tried all kinds of light and angles, and the holo effect just wouldn't show properly. The last picture shows the most accurate look of the effect.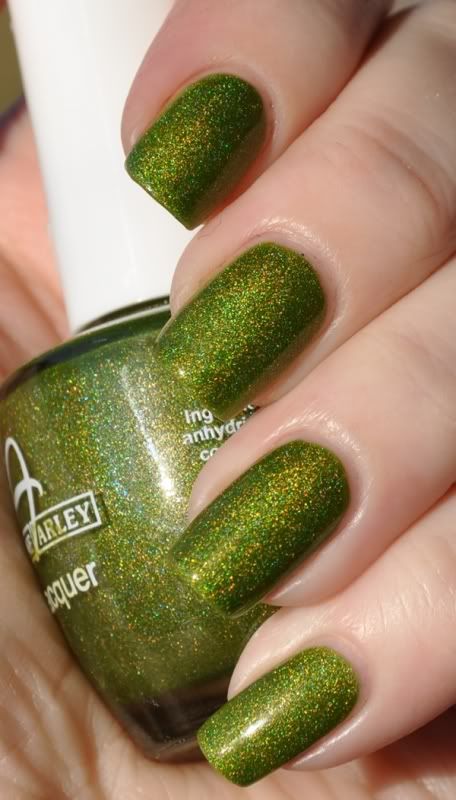 CA #803 - direct sunlight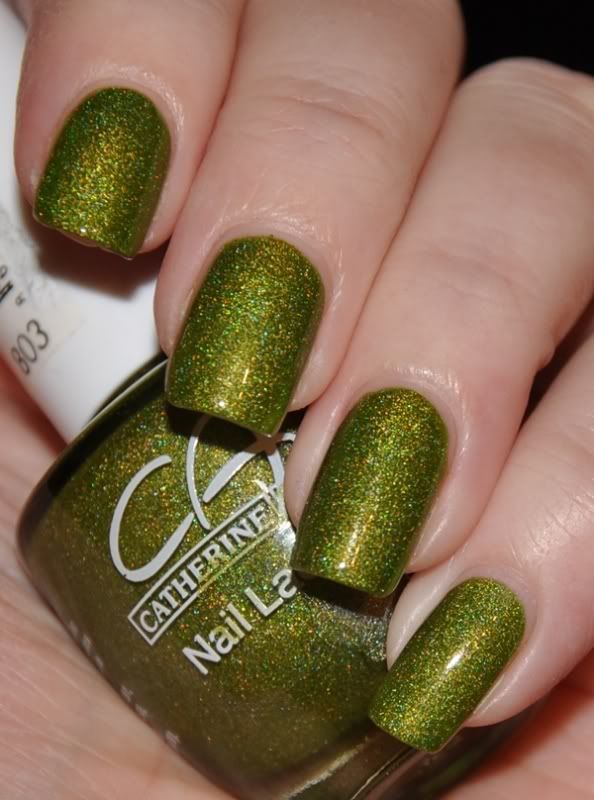 CA #803 - indoor with flash
This picture is taken after 3 days of wear and there's not a single chip nor any tip wear worth mentioning - only growth, and a lot of it! :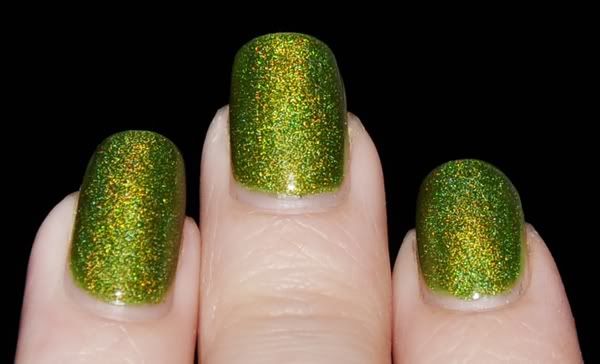 CA #803 - indoor with flash
I think we can agree that this colour is amazing, right? It's one of few holographic polishes that I enjoy indoor - if it catches a small beam of light, it looks deep and mesmerizing ♥ ♥ ♥ It's an incredible colour, and even though it's a bit out of my regular choice of green hue, I love it with my skin tone! It doesn't give me lobster hands or yellowed finger tips either. While I love it like a first-born, I can totally understand if it isn't your cup of (green) tea - it's quite the unique holo. Would you like to see a comparison to L8R G8R from China Glaze's OMG collection?
Let me finish by adding that this polish is now named Bellsprout, named after a common Pokémon (yep - I still play! I'm truly a child at heart :P). #803 is far too boring a name for this gorgeousness!
♥ Vetten