Now, I see myself as a all-kind-of-colours-kind of polish freak. I love anything from light pastels to dark colours, all kinds of finishes (except most frosts). And most of all, I love nail polishes in all colours of the rainbow - there's not a colour not represented in my collection (even though I very rarely wear red, it's still represented and worn in different kind of combinations)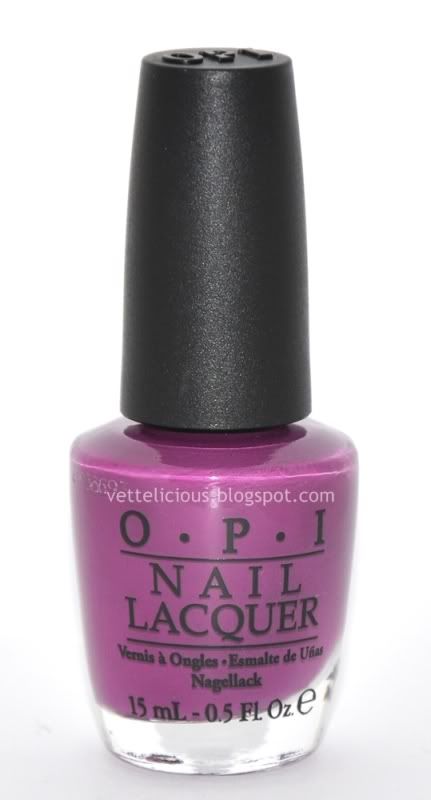 OPI Pamplona Purple
But I have one problem I'm serious annoyed about... No matter how many purple cremes I try, I can never seem to find one I want to keep on for more than a day. I love purple as a colour, and I love the purple swatches I see, and even when I buy purples I find I adore them in the bottle... But when I apply them to my nails, I get disappointed and want to change manicure immediately.
I guess you can say that I'm on a never-ending quest to find a purple creme I will fall head over heels with and not want to alter with glitter, flakes, flecks, etc. I recently bought Pamplona Purple from OPI, I was sure it would be the perfect shade of purple to go with my skintone - not too warm and not too cold.
While I think Pamplona Purple goes fine with my skintone, it still didn't amaze me like I hoped it would - like every other purple, I look at my nails and go a little 'meh'. I find my nails looking "classy", and that's a plus in my book for some occassions, but why am I not excited?
The polish has a great formula, covers in two coats and it is a delight to work with. I have no idea why I'm still so disappointed - maybe I'm just not good with purples?

I didn't add a topcoat, as I slapped on a holographic polish to make it work for me a few days. I haven't felt like changing my manicure often these days, I guess it's because I've been ill and busy with other chores in between. I think I remembered to take a picture of the holo on top, if so I'll do a post soon :)
OPI Pamplona Purple - two coats, flash
If you know of a gorgeous purple creme that might win me over, don't hesitate to write a comment! I'm stubborn when it comes to little things like this, and I'm not giving up just yet :)
♥ Vetten