Another excuse to flash Bellsprout again! While no-one asked for a comparison, I did one for myself ;) I was curious to see the two compare.
I used one coat of OPI Greenwich Village and two coats of Bellsprout (CA #803) on my middle and pinky.
On my ring finger I used 2 coats of China Glaze L8R G8R (from the OMG collection).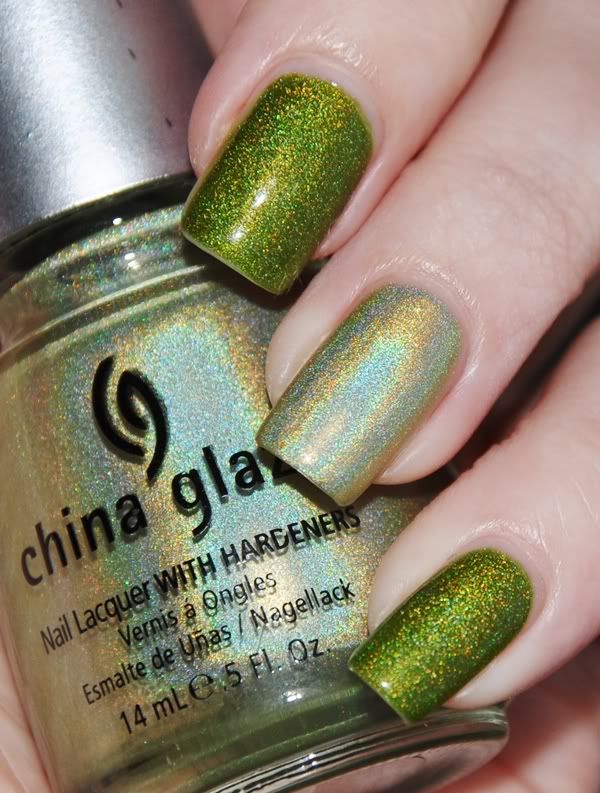 Catherine Arley #803 vs. China Glaze - L8R G8R
In this picture, I have been wearing Bellsprout for 5 days. Amazing lack of tip wear, eh? I'm beginning to love Catherine Arley holos more and more!
While it's easy to see they're no match, I'm curious to know which of the two you like better. Bellsprout is without doubt my favourite, it goes much better with my skin tone than L8R G8R - but if you go for the most linear holo, L8R G8R is the winner. As for now I'll stick with Bellsprout, but maybe when (if!) I get a little colour on my skin this Summer, I'll try L8R G8R again.
Even though the Tronica collection is like nothing I hoped for, I might be hunting down Laser Lime. While I doubt it'll be no match for Bellsprout, I've come to the conclusion that the base colour of the holo matters more than the effect, and I'm willing to give it a chance :)
♥ Vetten