Like I mentioned in my previous post, I just can't help but spice a purple creme up - or, as
Elzar
from Futurama would say - knock it up a notch! (any Futurama lovers out there? I love the
Spice weasel
! I want to make a franken inspired by it one day ♥)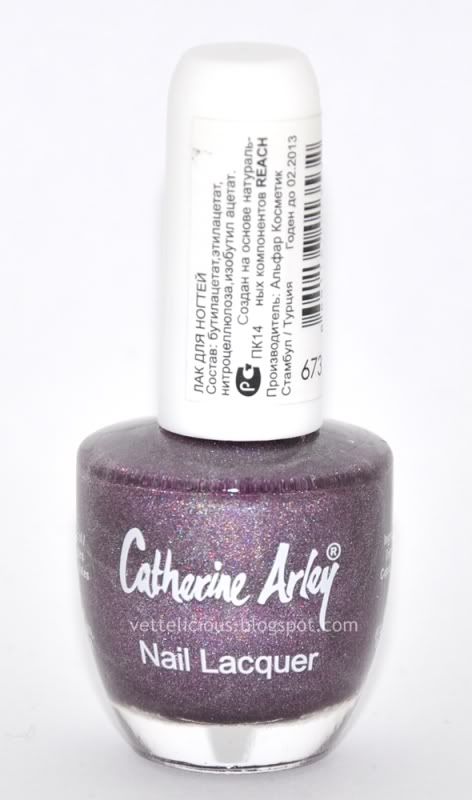 Catherine Arley #673
Anyway, this time I decided it was time to break the seal on another Catherine Arley holographic - #673.
In the bottle, #673 doesn't show a huge amount of holographic awesomeness, but that sure changes when it's applied!
As if I haven't ranted about this before, let me rant (I'm good at that, LOL) about the lack of good names for Catherine Arley polishes... So, once again, I felt like I had to rename this baby - and it is now called Ghastly. Yep, I found another pokémon as inspiration :)
I used my previous manicure, two coats of OPI Pamplona Purple, as base colour. CA holos are, in general, on the sheer side and I don't think it steals away from they gorgeousness to add a base colour - if anything, it makes them more interesting in the lack of sunlight (and we haven't had any around me for a week or more). I used one coat of Ghastly, finishing off with a coat of Fast Forward - and it did not take away any of the holographic effect.
While Pamplona is definitely much too warm a purple compared to Ghastly, I was surprised to find the result to be good looking despite this! I think Ghastly is a pretty decent linear holo, not linear like Nfu Oh holos or OMG holos, but like other rough, linear holos. I will have to try this baby on its own when the sun shows ♥
It ended up looking much like the bottle colour, don't you think?
Catherine Arley #673 - flash, indoor
Getting tired of seeing Catherine Arley holos, or is it a nice change from the boring Tronica collection? (No disrespect if you like the Tronica collection - after all it does have a few gems, and it's pretty in it's own way - just not very holographic as I hoped for!). As much as I am disappointed in the Tronicas, a few of the colours are speaking to me, so I might get them for stamping purposes.
♥ Vetten