Sorry for not putting up a mani in ages! I have so many pictures I want to show, but too little time to make the posts for you. I'll try to be more effective next week :)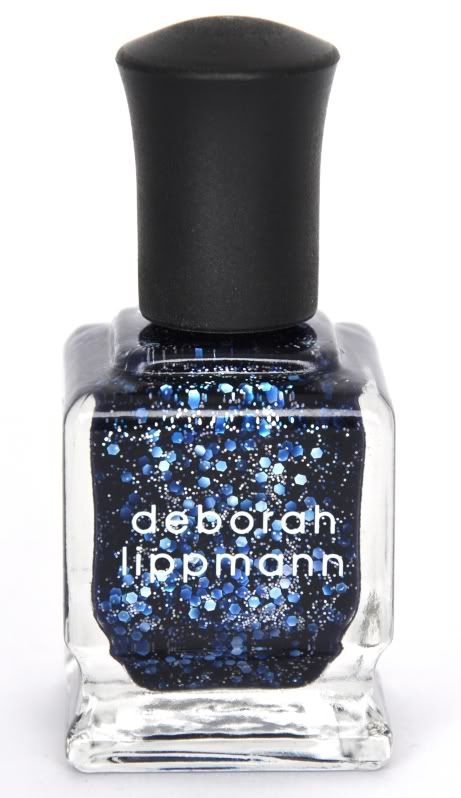 Lippmann - Lady Sings The Blues
Today I'm wearing Deborah Lippmann - Lady Sings The Blues. This glitter has been a want for me a long time, but as I didn't want the other glitters from the set I put off buying it until I could get it on it's own. As luck had it, I found it on Ebay a few weeks ago and last week I could finally say it was mine.
I was saving it for a weekend manicure, and yesterday was the perfect opportunity to try it out. I must say that I was pretty disappointed with my manicure. I used one coat over one coat of En Vogue, a dark blue Catrice polish. Maybe I should have put on more layers? I will try it on top of a lighter blue next time to see if it's the base that is too dark.
I think the basic problem for me is that the glitter looks amazing in pictures, because it looks white, but in real life it's silver. And it's hard to get it to shine and capture light indoor but in the pictures it looks amazing. I don't know why that bothers me though. It's such a silly thing, and I should cherish this polish because it tops a lot of other polishes I have.. Maybe I thought I'd be as thrilled with it as Glitter In The Air? I think it'll be hard to top that glitter for me.
Watching the macro-bottle shot I love this polish to pieces - it looks amazing! I'm honestly thinking of using the picture for some art projects :)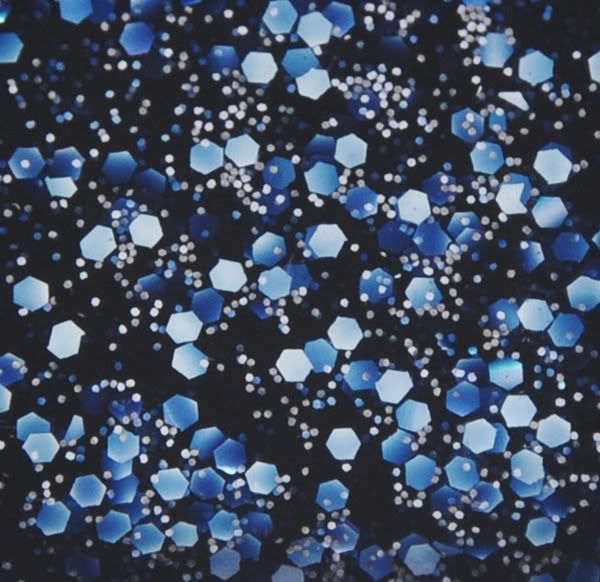 So, while I definitely love the polish, I'm still on a mission to make it work for me.
Here's a shot of my manicure ~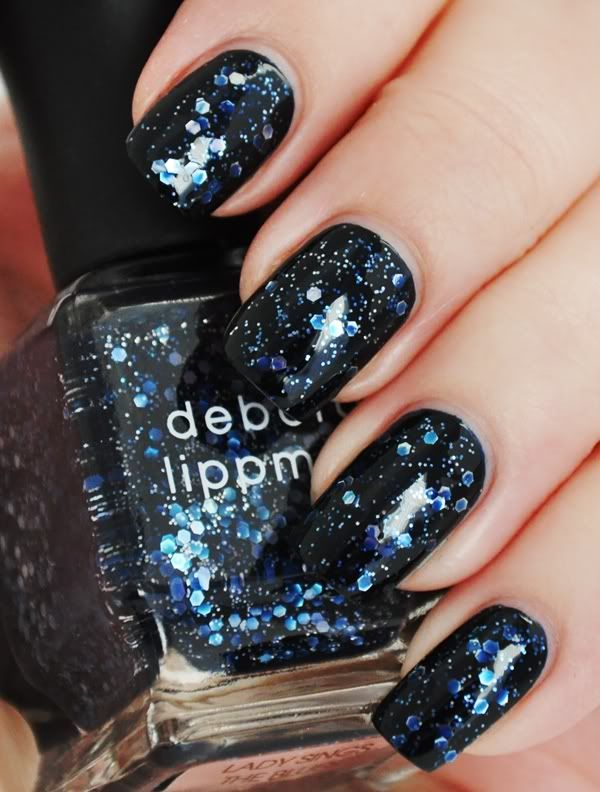 Catrice Glamourama - En Vogue + Lippmann - Lady Sings The Blues
To sum everything up I used; NailTek II Foundation, Catrice - En Vogue (from the LE Glamourama collection), Deborah Lippmann - Lady Sings The Blues and lastly, a thick coat of China Glaze Fast Forward. If you want a completely smooth finish, it'll take two coats.
To repeat, this really does look divine in pictures. In real life, not so much. I almost wish I could've gotten a picture of how the result looks in real life, but alas, it's a very photogenic polish ;)
Have a great Sunday everyone! And welcome to my new followers; I can't believe there's 200+ of you out there following my blog! :)
♥ Vetten