Hey girls!
This weekend it feels like time flew by! Sure, we changed into summertime here in Denmark, but that's not why I feel the weekend is too short - I was busy playing Plants vs. Zombies (a gift from my boyfriend since I kept borrowing his PC to play it LOL). Yes, I'm super late joining the trend that is P. vs. Z., but oh well. Better late than never :)
Nfu Oh #51
I changed my manicure last night, and I decided to try one of the last Nfu Oh flakies I haven't shown yet - #51. As soon as I received the bottle, I couldn't help but thinking about Clarins 230 aka Unicorn Pee. These polishes are very similar. Today I found out if I should've skipped 230, and I will tell you this later in the post ;)
I decided to layer #51 over a purple creme to bring out the purple jelly base. I used two coats of China Glaze Grape Pop and one coat of #51 - it could do with another layer, but I wanted the purple to be dominant, so I stopped with one coat.
This polish has a million faces. It is incredibly hard to photograph - at night, all I could flash was the purple base! So I decided to wait until today with some proper light, and it helped some.... But still, believe me when I echo what other bloggers say; this polish is more beautiful in real life ♥
It's heavily packed with flakies and shimmer. I think the flakies are orange and green, similar to the ones in #49, but don't quote me on that. The shimmer reflects the entire rainbow - gold, orange, red, green - and if you add another dimension, blue!
This is best shown in the ring I made to match my manicure :) I have another post coming about my rings, so I will leave you with a picture of this one to start with. Think of it as an appetizer ;)
I couldn't settle with just one picture of this polish, so out of the 50 I took, I chose 4 and put them in a collage. I think they represent the different faces of the polish quite well, but this is just one of the polishes you have to see for yourself.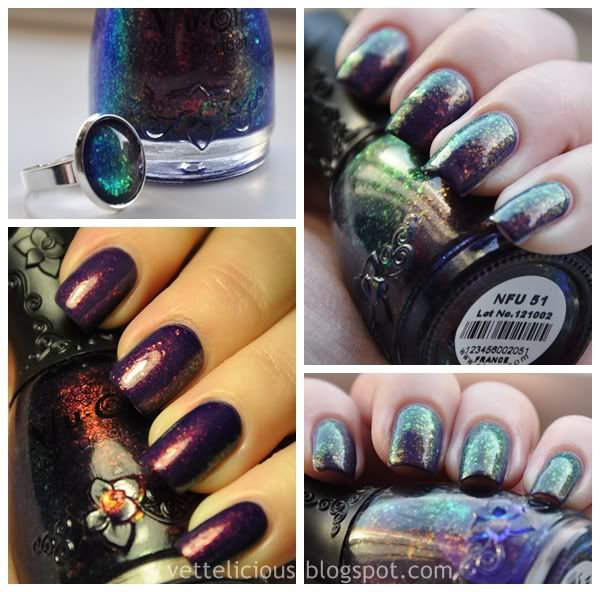 Nfu Oh #51 over China Glaze Grape Pop
So, to repeat myself - this is bottled rainbow. It's amazing. I love flakies, and I love Clarins 230's effect - having both in one polish is just polish heaven to me. I do think the two are rather different though, 230 containing much more shimmer is gorgeous on another level... and I wouldn't rethink my purchase if I had the chance. Why settle for one rainbow when you can have two? :)
What's you opinion about #51 - is it worth the buzz? If Clarins is too expensive for you, or just impossible to find, I can highly recommend #51 - it will make you feel magical ♥
♥ Vetten