I received a wonderful package with nail polish the other day. I had ordered 4 back-up top coats, a few cremes and the new China Glaze Crackles! Today I'll be showing you the first I tried which is the colour I was most excited about.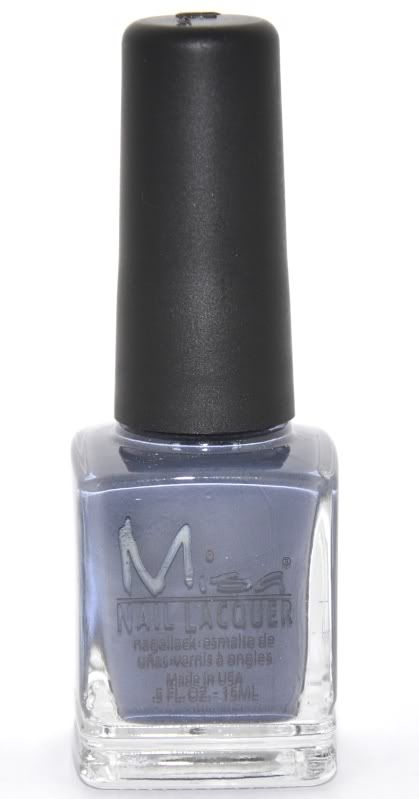 Office Polish-tics
As the base colour, I used one of the new cremes - Misa Office Polish-tics. Excuse the horrible, horrible over exposed picture to the left, I must've left my photographic skills (the few I have LOL) in my polish drawers.
Office Polish-tics is a dark blue-based grey (more dark than the bottle shot). It's gorgeous on it's own, but a bit too dark for me at the moment. I'm all about layering polishes right now, and it makes my fingers itch to see a perfect, gorgeous dark creme on my nails. I can't help but make them flashy!
I used two coats of Office Polish-tics. If you're better at applying than me (which is almost impossible not to be - one day I have to show you how my nails look without clean-up and topcoat to even out the coats, LOL! It's embarrasing!), you can get away with one, thick coat. Especially if your nails are shorter - mine are getting a length where I can't avoid bald spots even with a one-coater. Again, I'm terrible at applying even coats.
This is the first Misa polish I try, and while I love the long handle and the square bottle, the brush is extremely small and it takes so many strokes to cover my wide nails. Office Polish-tics had a great formula and with an OPI wide brush it would've been perfection.
Anyway, onto the crackled part of the manicure. Since this is my first test with China Glaze's crackles, I wanted to try using it in two different ways, so I applied one coat of China Glaze Fast Forward on one hand and left Office Polish-tics to dry alone on the other. This results in different crackles, and I guess it's a matter of taste and preference which is better.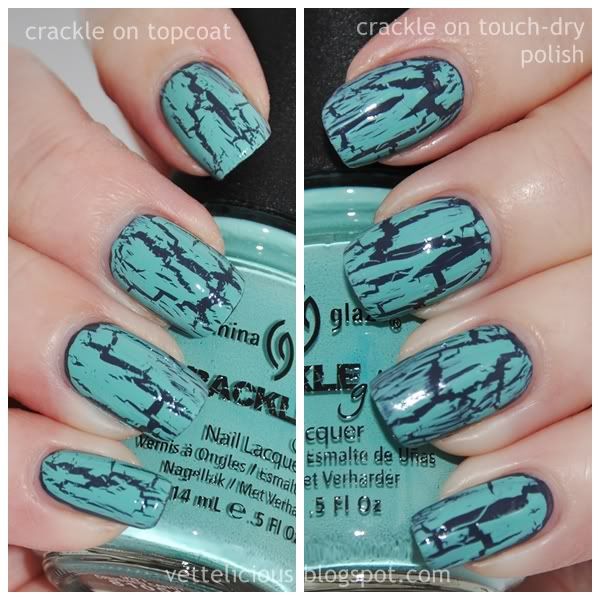 Crushed Candy over Office Polish-tics
Personally, I prefer the result to the right - crackle glaze over a touch-dry (but not dent-safe!) polish. I just love the strings it creates! I used a thick coat of China Glaze Fast Forward on top of the crackle, but two regular coats would make the finish more even (again, this is my preference. Others may like the different levels).
How does China Glaze's crackles compare to other brands?
In my opinion, the thin brush is a little harder to work with compared to OPI's wide brush. It takes me 3 strokes with ChG's, and overlapping is inevitable for me. I do want to add that ChG's crackle are more opaque (at least this one is) than Depend's, and it means they're easier to use over dark base colours. Not to mention that I am loving the colours China Glaze did! Mint-blue, pink, grey, white, these are perfect for spring!
I hope you guys are not too tired of the crackles just yet, I have a lot of combinations planned with these ;)
♥ Vetten