I won a give-away held by the wonderful
Cel
from Greece! If you love nail polish & kawaii things and haven't already checked out her blog, you really should! She's very talented and very sweet ♥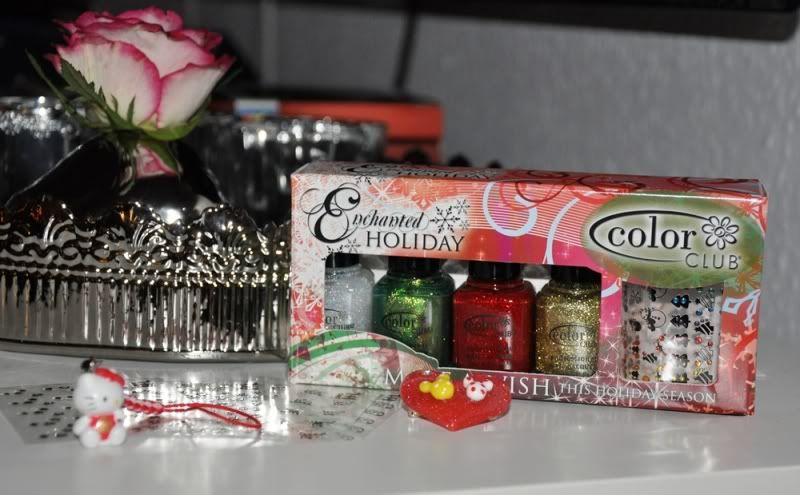 She sent me the Enchanted Holiday set from Color Club, including 4 mini sparklies and a set of stickers. I will have so much fun with the polishes, even though Christmas went by, and the stickers will be there next year for me to use :)
She also sent me an ADORABLE brooch, made from a red heart with two Mickey shapes attached ♥ I love it! Not to mention a Hello Kitty phone strap, also incredibly cute, 4 diff. nail art sticker sheets and a sesame bar! Thank you so much, sweetie!
I've also been tagged by her, and thought it would be okay to include in this post. :) It wasn't the intention, but I decided to answer like a true polishaholic - so most of these answers are about polish, LOL! Hope it's okay I gave it a little twist ;)
# 7 things I have to do before I die
+ Find a red creme I dare to wear
+ Try each and every one of my untried polishes (this will be an on-going neverending quest!)
+ Travel around the world and find local nail polish brands to try
+ Do a natural nail post (I'm terrified of showing you my ugly, stained nails)
+ Try out MINX or something similar
+ Own the majority of the nail polishes inspired by something I'm a fan of (Like RBL's Spongebob polishes! ♥)
+ I hope to meet other nail polish fanatics once! It would be so amazing to talk to someone who shares the passion.
# 7 things I say all the time
+ OMG!
+ LOL (sad as it is, I say this quite often RL as well. What can I say, it's part of my nerdiness!)
+ Awesome!
+ Wow!
+ Cute
+ Combo (When I see an awesome colour/polish combo, I say so!)
+ ♥ - I use this symbol so often it's not funny. I do turn it down a notch so my posts are read-able, LOL!

# 7 things I am good at
+ Organising my polish stash - and all the extra bits like stamping plates, etc. I need more place, though!
+ Colour combinations (at least I think so, lol)
+ Using a good base and topcoat to help protect my nails and polish from chipping. Taking the time to do each manicure properly :)
+ Shopping! Also spending that extra $ to get the polish I *really* want instead of finding a dupe. If it's not a major want, a dupe will do ;)
+ Saving money from my other hobbies (and.. ahem... Necessities like new clothing. I've often bought a new nail polish before buying a shirt - I want a shirt that matches the polish, not the other way round! *blushes*)
+ Remembering to take pictures when I make a new manicure, even if the pictures needs improving themselves :)
+ Have fun with it! Blogging or polishing should never feel like a chore :)
# 7 flaws
+ I have a hard time figuring out a shape that fits all my nails - and prevent it from breaking on my pointer + middle. I'm working on it, though!
+ Pictures needs improving - I'm looking for a good lamp for evening pictures and perhaps a lightbox, too!
+ Buying more polishes before trying my untried polishes
+ Clean-up - I need to find a way to make my nails look like they have the same shape around the cuticles, it's a pain in the a** not being able to push them in the right shape :/ Working on it, though!
+ I'm a procrastinator. You'll find me watching a tv-show instead of doing my nails in proper time for good light!
+ Impatient, if something doesn't work out like I want it, I often find something else to do instead of trying to improve. This happens a lot when I try out new manicures.
+ Not taking the time to learn how to code - and make a more unique blog that way.
# 7 qualities
+ I'm creative - I hope it shines through my polish designs every once in a while, too :)
+ Passionate about polishes - I don't think I will ever be satirated (?), there'll always be polishes to fill my wantlist. That's how I like my obsessions :)
+ I like to see myself as a fast learner - I've improved my skills a lot since I started this blog (and believe me, before that... my nails didn't look too good!)
+ Not afraid to try out new things - I just have to get them right early in the training progress, LOL!
+ Enjoying my life where I am right now, not to mention my hobbies, nail polish included, instead of always looking ahead. Enjoy today while you still can, tomorrow will be a new day ;)
+ I like to think that I'm good at reading and commenting on others blogs, too. It happens that I'm too busy to comment, or just don't have anything valuable to add, but I read every blog post if I follow you!
+ Being able to value a polish for it's quality, not just it's pricetag. Although I enjoy expensive brands, I also LOVE a lot of the less expensive - like Catrice and Essence. It all comes down to the polish itself.
*phew* I hope it was fun reading through, even though I twisted the original tag a little! I might do the original tag on my other blog. I want this blog to stay as polish as it can be :)
I'm going to tag everyone of my followers! Nope, it's not the lazy way, or maybe it is, LOL, but in all honesty, I love reading peoples answers to these :) Let's get to know you better - no matter if you use the polish version or the original! :)