I've been inspired by
Neglenymferne
and
Coewless
who both made such amazing frankens lately. If you haven't seen these blogs before, I suggest you take a look now, there's some really sweet girls behind them and they often update with gorgeous tempting colours and artistic manicures :)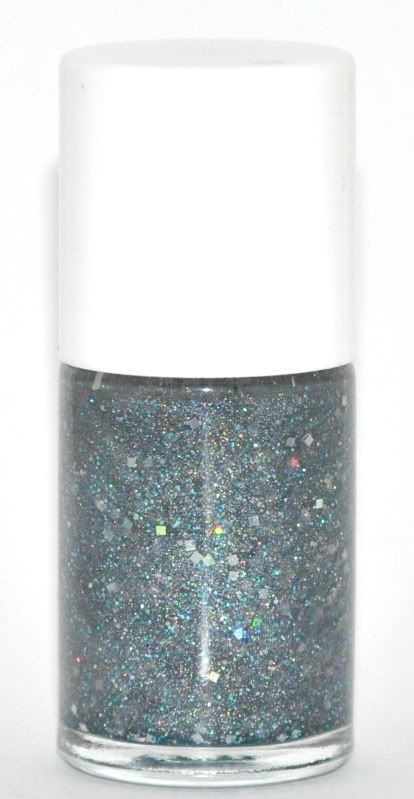 Frankie wants to meet Galaxy
Frankie wants to meet Galaxy is a sheer grey base packed with all kinds of glitter (like I said, I was very inspired by the above mentioned). There's silver holographic sparkles, blue and dark blue glitters, silver glitters and a few large glitters here and there.
I used many polishes to create this - Manhattan 101S, Essence - Julia, Catherine Arley 676, two nail art pens with blue glitter, and the base is a cheap clear topcoat.
I decided that it should be a polish made for layering only, so I never intended it to be able to build opaque. I also wanted to be able to use it on various base colours with a darkened effect, so that's why I mixed in the grey. While creating this, I was also thinking of Lippmann's Today was a Fairytale, a polish I hope I'll have one day. I love glitters in sheer but toned base colours.
As for the name, it might sound silly to you, but I'm a child at heart and I have another hobby I don't often speak about - collecting vintage My Little Pony toys from around the world. You might remember how MLPs had a symbol on their hips? One of my favourite ponies is called Galaxy (I've used her for a design previously), and this franken reminded me of a starry night. When I'm out at night, I always look for Big Dipper (Karlsvognen), it's my favourite constellation, always has been. And so I thought it'd be an appropriate name. :)
I knew I had to try it on immediately, so I found my Black Creme from Wet'n'Wild and started with a coat of that (after using my basecoat of course). Then I used one coat of Frankie wants to meet Galaxy, and decided I didn't need more for the effect I was going for. :) Two coats would've given a more even glitter when there's no light to catch the holo particles.
Here's the result in various light, and I'm pretty satisfied with it overall. Now I can wear the night sky with me all the time ♥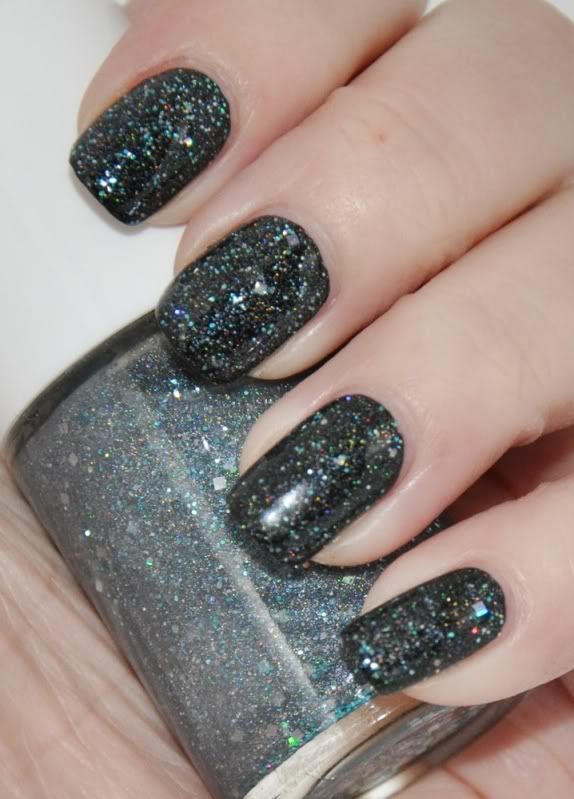 Franken wants to meet Galaxy - indoor, lightbox + flash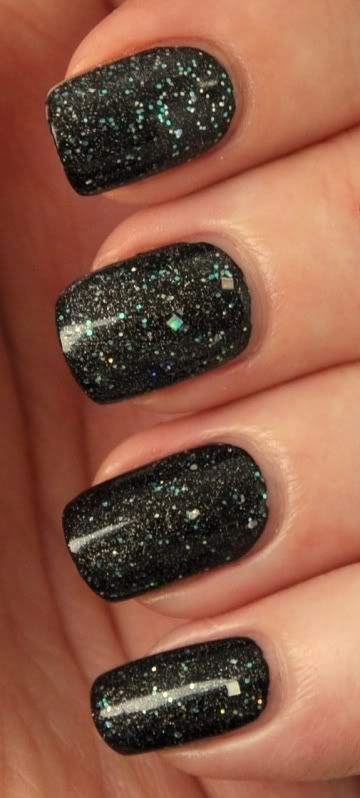 Franken wants to meet Galaxy - indoor, natural light
Franken wants to meet Galaxy -sunlight
I think the polish turned out okay - I wish I had more big sparkles to add, but then again it wouldn't like like a real night sky - after all I was going for the scattered glitter. The reason I don't want it to be a regular black holo without the scattered glitter? I wanted a sparkly polish that would also make a pretty indoor look. In my opinion regular black holos look so dull indoor, and a few glitters took care of that.
Sorry for the funny picture sizes, I know it looks totally silly, but I'm too tired to work with them right now. I wanted to show the different faces of this franken - personally, the indoor no light is my favourite, although it does look divine when light catches the holo sparkles.
I'm excited to hear your opinions, and don't be shy - if you think it could need some work, LMK so I can improve! Or if you just plain don't like it, I'm totally okay with that as well :)
♥ Vettelicious
(thank god I decided to make a few posts in advance - I've been sick the past two days)