Gypsy Blue is by far the prettiest and easiest creme I've tried from Gosh. It's easy to work with, has a great formula, very opaque meaning you can get away with one thick or two thin coats, oh, and the colour itself is gorgeous.
This is my go-to colour when I want to make an easy, painless manicure or just feeling like a popping blue on my nails. The colour really pops - it's the perfect basic blue IMO ♥ Looking at this colour throughout the day really cheers me up!
For this manicure I wanted a little bit of sparkle as well as some stamping. I recently organised my plates, meaning they're easier to reach and choose from, so I think I'll be using more patterns from now on.
China Glaze's DV8 came to mind as well as my favourite random pattern, circles from an Essence image plate I have. I think the result is a fun little extra on that beautiful blue I love so much, and I put on some dots of DV8 with my dotting tool to make the pattern more complete :)
Gosh Gypsy Blue, CG DV8 & Essence Image Plate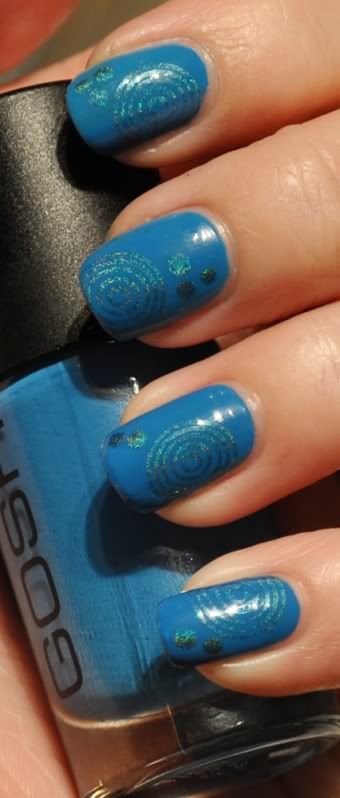 Gosh Gypsy Blue, CG DV8 & Essence Image Plate- no flash for extra visible holo
Here's what I used:
Besides my base coat, NailTek II, I used two coats of Gypsy Blue.
Then I stamped and dotted DV8 randomly on the nails, and finished with a coat of Seche Vite :)
♥ Vettelicious