Hey guys! Hope you're having as great a start on the new year as I am; it's busy but it's been a good kind of busy :)
I'm on a holo craze, I think most nail polish fanatics out there got excited about Tronica from China Glaze which will be released in a few months. A few people have already got ahold of it, and I must say that I've been severely disappointed in the swatches. Almost no holo at all :( Even so, I'm hoping to try them out and find love for them anyway LOL - maybe they're not OMG substitutes but they deserve a chance to be their own pretties :)
Anyway, I decided that I needed a few more holos in my life - right now. As in, I had to check out Ebay and find a few pretties to pass time a little quicker :) I quickly decided it had to be a dark shade, and I found Revvvolution which is rather cheap. I wasn't too impressed with the bottle pics I saw, but thought it was worth a try.
And boy, is it worth the pennies ♥ It's as close as you get to a black holographic polish!
I only used one coat - yes, one coat - and it wasn't a thick one either. The holo effect is gorgeous, it's subtle compared to some brands like NfuOh and China Glaze's OMG collection, and it's more scattered than those as well. I still love it - it's dark, it's got rainbow particles, I'm sold :)
I decided to take a picture before putting topcoat on, because I've heard rumours it takes some of the holo effect. It never has in my experience, and this one proved to be just as holo, if not even prettier (with the added shine and all), with a top coat (Seche Vite). I'll show you both pictures anyway ;)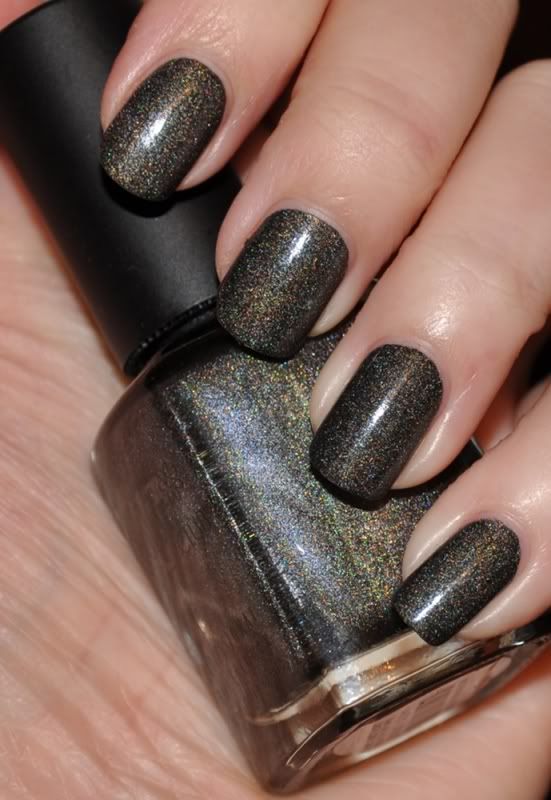 Color Club Revvvolution - no topcoat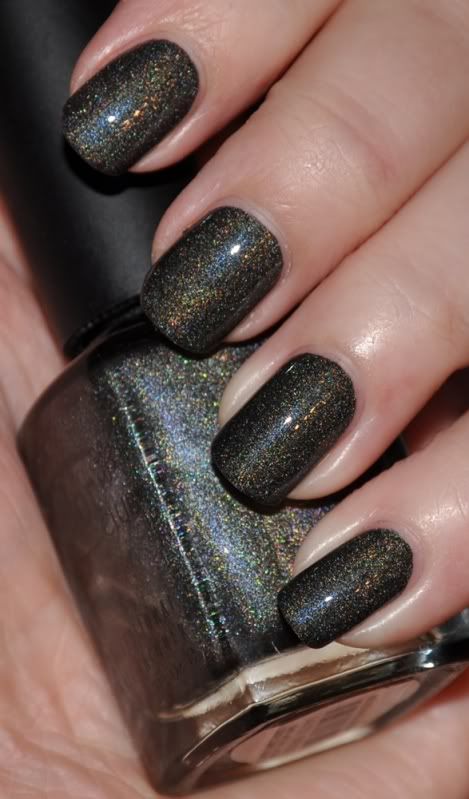 Color Club Revvvolution + Seche Vite topcoat
If you like dark and bold holos, and don't want to spend too much either, I can def. recommend Revvvolution. It's opaque in only ONE coat! Sure, there's holos out there with much more holo effect - but I have yet to find a dark grey / black one :) It's not my fav holo, but it's on my holo top 10 for now!
What's your favourite holo? Is there one type of holos you prefer more than another?
♥ Vettelicious