Today I'm wearing a holographic pretty I got recently. I bought quite a few Catherine Arley polishes with the help of a sweet Bulgarian :) Catherine Arley is a Turkish brand from what I understand, and each nail polish cost me about 1.50$ . A big thank you to Emerald Sparkled, who showed these beautiful holos on her blog! Without that post I never would've known they existed.
#667 is a dark grey holographic polish a very strong holo effect. In order to show you how pretty this gorgeous polish is without having any kind of natural light, let alone sunlight, I had to play with some artificial light and it made my fingers go red and yellow. Please excuse that, but I'm sure you'll agree that the polish is more important :)
This picture shows the effect and the density of the holo effect very well, however a bit washed out, the colour is more accurate on the following pictures. I hope I can get better pics during the weekend, if so I will update this post.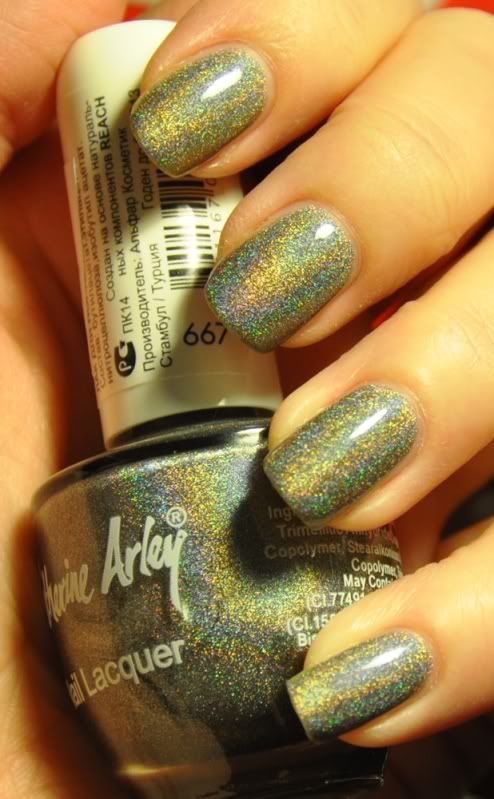 Catherine Arley #667 - artificial light, no flash
And a close-up (this is the colour the polish is IRL)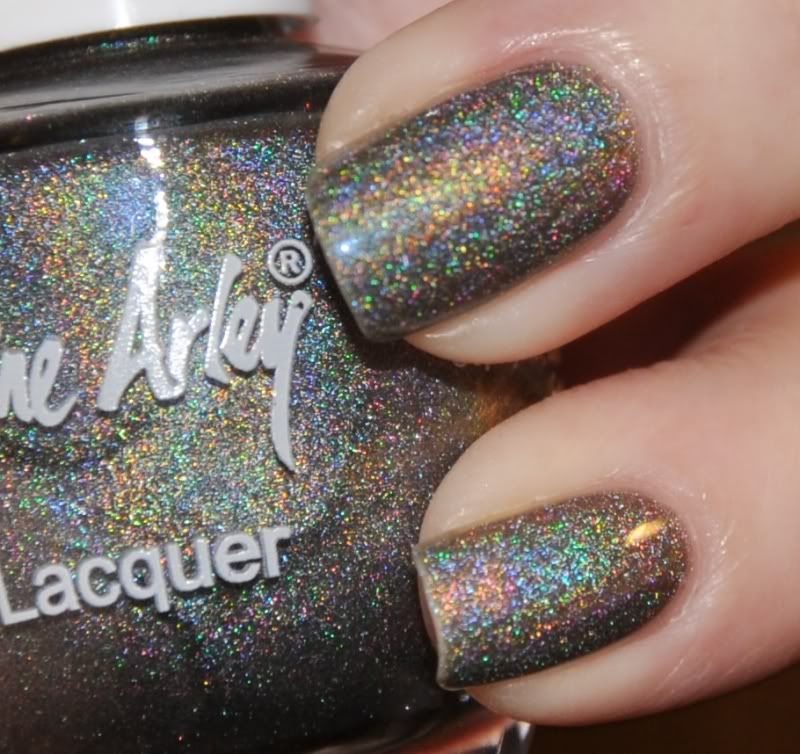 Catherine Arley #667 - artificial light, flash
And a blurry pic where you can really see the pretty sparkles!
Catherine Arley #667 - artificial light, flash
I'm wearing two thick coats and one coat of Seche Vite. I found that while the top coat was drying, the holo effect was very muted compared to the nails without, but once it dried fully there was no difference other than the finish, which were more shiny. So there's no need to skip the topcoat on this one ;)
As for how rough the holo glitter particles are, it compares to GOSH - Holographic. It's rougher than OMG holos, but finer than Kaleidoscope holos.
This was one of my fav Catherine Arleys going from the bottles when I received them, and it certainly hasn't disappointed me! The price is unbeatable and the result is... Holo! ♥ It really says it all.
♥ Vettelicious