*UPDATE at the bottom*

Today I wanted to try a new polish I bought from the brand Manhattan. I'm a sucker for dark, almost black greys and this pretty polish looked like it was right up my alley.
It definitely is ♥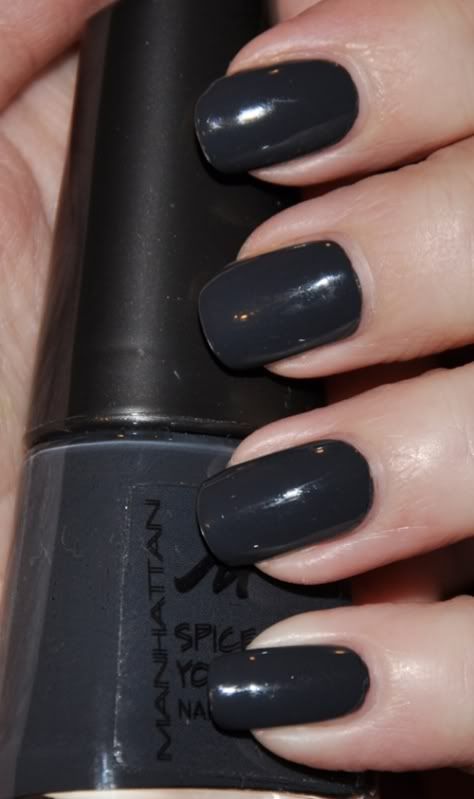 Manhattan 101S, flash
(excuse the wear, I had to go shopping right after applying my Seche topcoat and couldn't get any pics until this evening so it looks quite a bit worn).
I've been wearng a lot of cremes lately, so I thought about spicing them up a bit. I remembered some stickers I picked up in Germany from Essence, silver glitter french style stickers. I've been saving them for a dark creme, and this was a great opportunity :)
Here it is without topcoat (and really, it still looks like stickers on the tips of your nails. I highly recommend a topcoat on these, not only to make them last longer but also to remove the sticker-esque feel).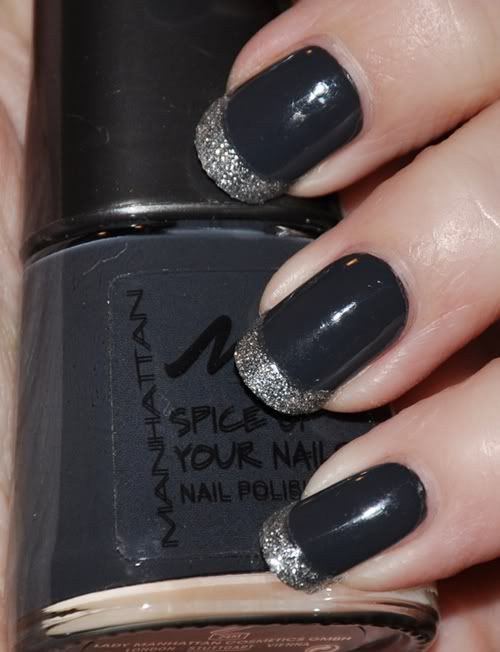 Manhattan 101S + Essence French Glam stickers
Here's the final manicure with a cot of Seche Vite;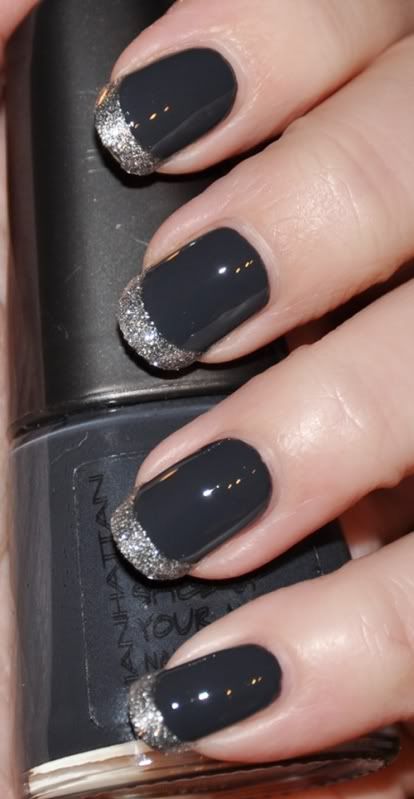 Manhattan 101S + Essence French Glam stickers
I honestly have no idea what happened to the sticker on my pointer, it looks like Seche might've shrinked it?! D: Not the look I was going for.
Manhattan 101S is definitely is must-have, if you like dark cremes. It's a two-coater, dries relatively fast and is easy to clean up. I'm liking Manhattan polishes more and more!
As for the Essence French Glam stickers, it's a good solution if you want funky french tips but don't bother the work with an extra polish that has to dry... But the result isn't as amazing as it'd been if I used the real deal. It does look a little less sticker-like IRL, but it still isn't enough. Needless to say, next time I feel like this, I'm going to do it the paint-'em-yourself-way ;)

UPDATE: Well it turns out the glam stickers didn't last long. In fact, when I woke up the morning after having applied them (and using a topcoat to seal them, mind you), 4 were already falling apart. Literally, as in the sides lifting and breaking off! I had to remove them before going to class, lol, I wouldn't be seen with 'em. I would not recommend replying these and expecting them to last for a few days, if you want the look for a party, be sure to apply them right before going.
♥ Vettelicious