I know this polish is old news, but it wasn't until recently I finally ordered it for myself. Going Incognito is part of Essies 2010 Fall Collection, and in my humble opinion it's the most interesting colour of the bunch.
Essie - Going Incognito
If you ask me, one can never have too many green cremes, let alone sea green cremes. I've always been a big fan of polishes in all colours from green to blue and especially the ones in between.
I don't own many polishes from Essie, in fact I only have 4 colours in my collection - all in some shade of green. Besides Going Incognito I have Greenport, Mint Candy Apple and Pretty Edgy. I would have more, if only Essie polishes had a better brush. I can't stand the thin, soft brush that is unbelievably hard to control for someone as shaky as me. It takes me 4 brush strokes to cover my wide nails and more brushstrokes = bigger risk that it'll end up with visible brushstrokes.
I doubt I'll be able to avoid buying Essie polishes in the future - they make some unique shades and I find it especially hard to resist their greens.
Rant aside, Going Incognito is a deep, muted sea green. It's very pigmented and I needed two coats for full coverage. It was relatively easy to apply and all problems I had with this was caused by the annoying brush as mentioned above. And the colour is worth the extra clean-up I'm bound to get with the silly brush ;)
I really wanted to make some nail art based on this colour, but my mind was blank and I had no muse whatsoever. Oh well, it definitely a colour I will be wearing again, and I'll have a good think of a theme until next time ;)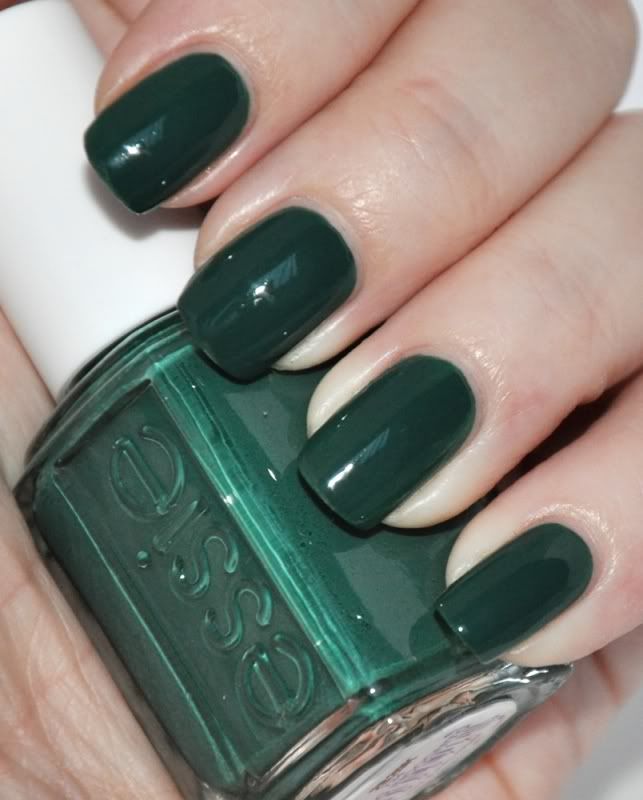 Essie - Going Incognito -natural sunlight
In general, I sincerely apologise for the lack of nail art lately, I'm just having a design-block at the moment I think. I try with almost every manicure, but end up ruining it and do a simple creme instead. Hopefully my muse (and patience) will be back soon :)
What's your opinion on Essie Polishes in general? Which is your favourite shades - and why? And lastly, what do you think of Going Incognito? :)
♥ Vettelicious