I've had a lot of fun doing frankens lately. It's not only fun to mix and create a polish you'd wish real companies would make, it's also lots of fun finding a name and making a bottle design that fits it. While Frankie wants to meet Galaxy's sticker was very simple in design, I decided to make a more artistic design for my latest franken :) I hope you like it!
Teal Rex - RAWR!
Teal Rex was created with a few polishes I haven't used on their own yet. While I felt they were beautiful, they were very average, and so, in an ocean of simple polishes, I decided to make one that would stand out more (at least to me. I know dark, musty colours aren't everyone's cup of tea ;) ).
I used about 1/5 clear polish, 2,5/5 Essence - Trendsetter (a teal creme I bought in Germany) and 1,5/5 of an unkown brand black crammed with silver shimmer (similar to Magic Black from H&M, only with lots more and bigger silver shimmer). I realise I should've taken a picture of the ingredients to show you, but I never got around to do it.
The bottle I used is from the same unknown brand as the black shimmer, I really need to order some clear bottles soon! Though the square bottle appealed more to my creativity ;)
The result is a very dark teal with amazing light teal / silver shimmer in it. I'm super pleased with it ♥ It reminds me of the CND duo with Urban Oasis and Teal Sparkle, a set that's been on my wantlist for a while.
Oh, and Teal Rex is almost a one-coater! I used two since there was still a few bald spots after one coat.
Here's a few more shots of the bottle ~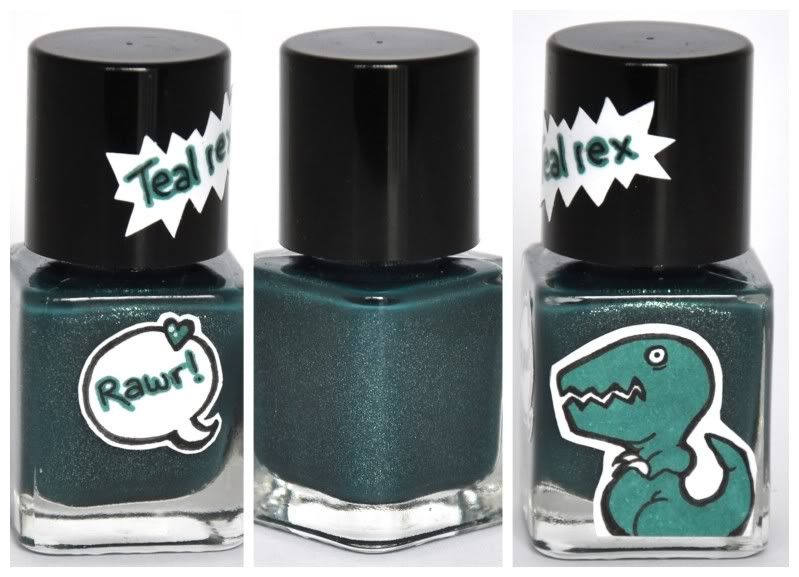 Teal Rex - bottle shots
And it wouldn't be fun without a mani-shot, would it? :) Here shown with NailTek II base coat and a coat of China Glaze Fast Forward on top.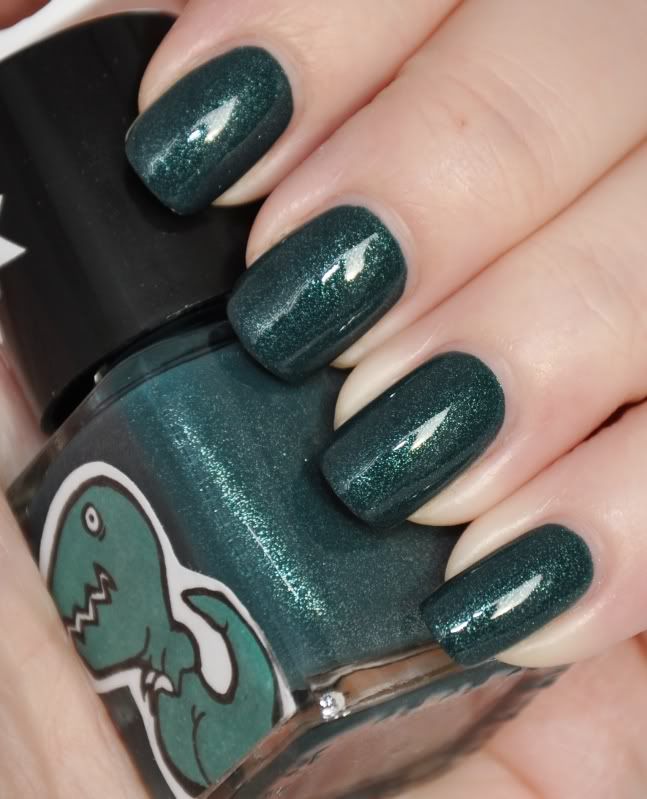 Teal Rex - natural light + camera flash
What do you think about it? :) If you don't like tacky bottles, LOL, or the result it's okay - don't be afraid to give your honest opinion! I realize it's not exactly a spring kind of colour, but I love wearing dark colours all year. I can never get enough teals (or effect polishes for that matter) in my collection ♥
♥ Vettelicious