This manicure is inspired by a beautiful green creme I got recently, perfect for spring - Orly's Mint Mojito. I love this colour so much, it's bold for a pastel shade, it's green and it's just... wow. This is as flashy as a glitter! Does that make sense? LOL
I had a few difficulties capturing the true shade of the colour.. It's a bit more bold than my flash would allow.
Here's 2-3 coats of Mint Mojito. It's a bit sheer, but the colour is worth the 2 thick or 3 thin coats it takes.
Orly Mint Mojito w/ topcoat & flash
Mint Mojito is gorgeous on it's own, but I wanted more. I couldn't help myself, I needed something cute on my fingertips!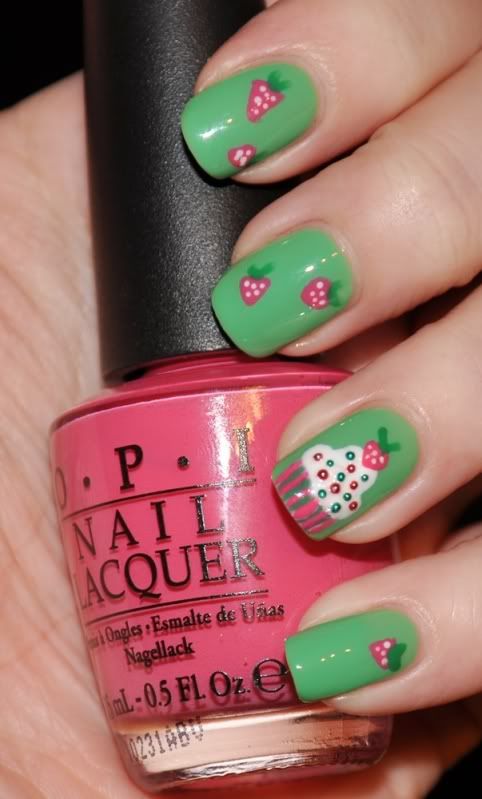 Orly Mint Mojito.. with strawberries! Picture taken with flash
This picture shows the true colour of Mint Mojito a little bit better;
Strawberry cupcake made with nail polish & steel beads
Besides my basecoat, NailTek II, I used Mint Mojito as base colour - 2-3 coats.
I then added a coat of Seche to speed up drying time, then I painted the cupcake and strawberries using OPI Feelin' Hot Hot Hot!, Essie Pretty Edgy, white Depend polish and finished the cupcake with some steel beads from Ebay in green and pink.
I gently pushed them into the wet polish, and added a coat of Seche Vite to finish the manicure. I've worn this for three days now, and none of them have fallen off :)

I hope you like it! I think it's pretty cute, even if a bit sloppy, and will def. do something similar when Spring comes!
♥ Vetten