Hey girls, I hope you're having a fantastic Thursday! The moon followed me to school early this morning, the sun has been shining through the day and I'm feeling ready for spring ♥
I haven't had a single chip in my ILB (I Love Berlin) I Love This City (pink creme) manicure, but I had so much time on my hands that I decided to try out another new polish today! I started with a white satin finish polish from Essence called White Hype, but I'll show you (and rant) about that one another day. I used the white base as a base for my first french moon manicure - I'm pretty sure that's the name of it anyway - and went for another gorgeous creme from the ILB LE collection - #03 Green Grass to paint from the moons onto the tip. The result is not amazing, but I thought I'd share anyway :)
Essence - Green Grass + White Hype - flash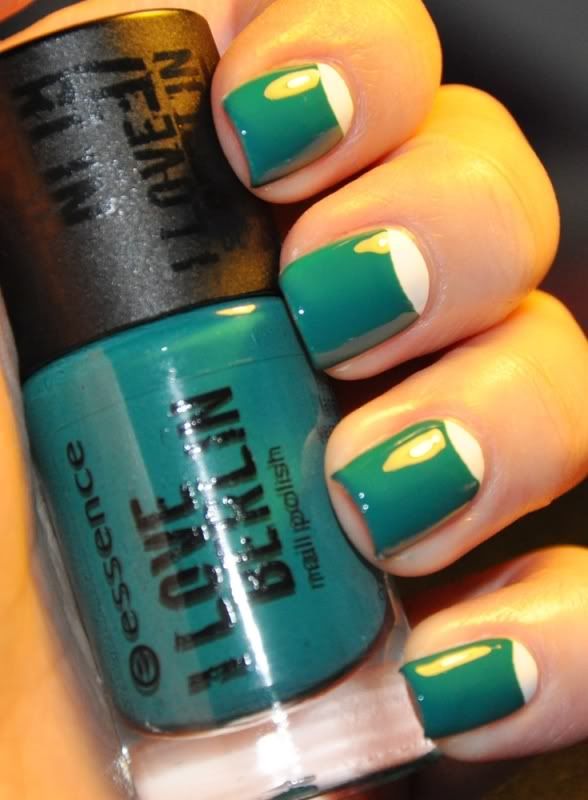 Essence - Green Grass + White Hype - artificial light
Green Grass is a gorgeous creme, very opaque but I think two coats is needed for total coverage. I used a rather thick one over White Hype.
Hope you like it! I'm not sure I like the moon when it's white - it doesn't fit my skintone, does it? Also, be happy that you don't have to see the sloppery job I did on my right hand - I gave up and called it a day before it got perfect. I'll be doing a weekend manicure tomorrow anyway!
A big welcome to my new followers, more and more have been starting to follow my blog lately, and I'm super psyched about it. No, I don't do it for the followers, but sharing it with you guys makes the blogging part of my polish obsession so much more fun!
♥ Vettelicious