Just a teeny post from me today with a simple manicure. I've been busy these past days, spending time with my mom and - unfortunately and unrelated - a few migraines.
Nfu Oh #50
Nfu Oh #50 is a flakie goody from my favourite flakie distributor. One day I'd like to have them all, not counting the yellows... Some of the polishes look alike, but they're all so different once you get them in your hands!
I found the consistence of #50 to be more dense and thick than the rest of my flakies, as a result it was kind of hard to distribute the flakies evenly on the nail. It's worth the work though ;)
It's a very sheer polish so I decided to use China Glaze Grape Pop as base. One coat for most nails, though a few hand bald spots and needed two. One coat of #50 and lastly one coat of China Glaze Fast Forward, and I was good to go!
I would love to try this over a dark, navy base another time, but alas, too many polishes awaits their 15 minutes of glory on my nails (LOL) and it will have to wait a while. ;)
Enjoy the pictures!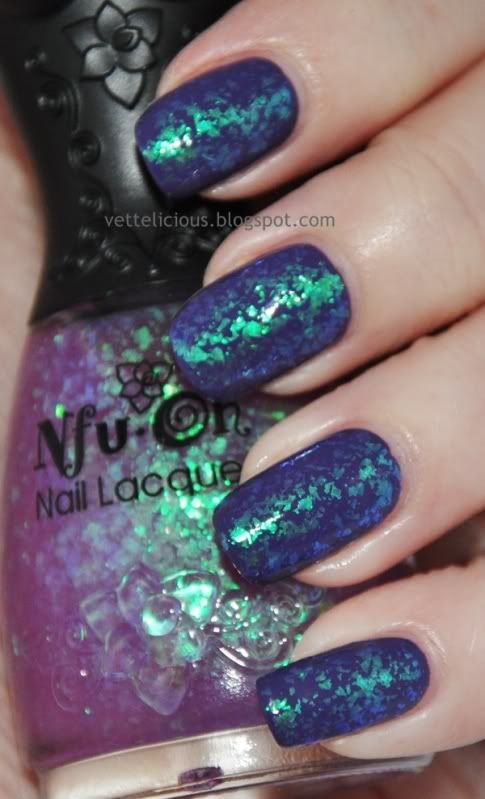 Nfu Oh #50 + China Glaze Grape Pop - flash
Nfu Oh #50 + China Glaze Grape Pop - flash (close-up)
(I'm sorry the last picture messes a bit with the frame... I try to keep them small but I'd rather show you a real close-up than the pics being too small!)
♥ Vetten