This'll just be a quick post to show you the last of the four crackle effects I bought last week, made by the Scandinavian brand Depend :)
Crackle Effect polishes from Depend
The bright red crackle effect is the one I decided to wear as a full manicure when I was having fun with these.
While the thought of a red crackle intrigues me, the red effect from Depend is not the most opaque crackle.
While you can certainly make this work on black base colour, you will need a topcoat to pull it off - without it it will look like dried blood (brown red), and IMO that just doesn't look great.
I took a comparison picture, and mind you - it looks redder/more orange-ish in the picture than in real life. I'm not exaggerating; I really think it looks like dried blood without top coat.
In general, this crackle was a bit fickle to get a good picture of - at least for me.
Either the crackles wouldn't show up at all or the colour would be really off, so I used the best results for both with and without topcoat. I hope they're use-able ;)
I used one coat of base coat, one coat of Wet'n'Wild Black Creme and one coat of crackle for the shot on the left and added a coat of China Glaze Fast Forward before the right picture.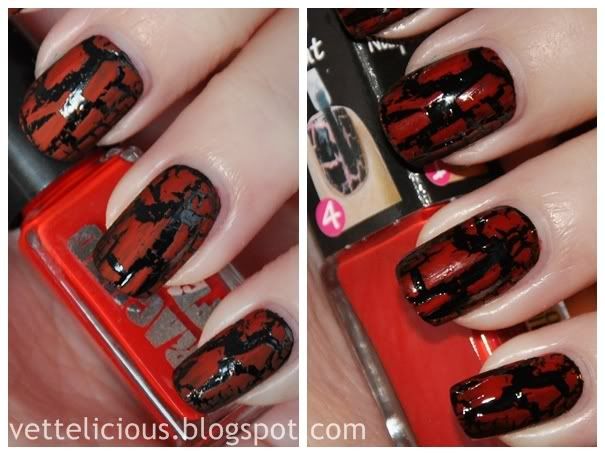 Red Crackle Effect from Depend, natual sunlight on the left (no topcoat) & flash on the right (with topcoat).
While I wish this crackle would've been more opaque and more visible from afar, I'm pleased with the result and will be using it every now and then. I just need some good red colour combinations - any ideas? And how do you like the red crackle? I know many people were excited about the red version (as was I, since it's quite a bold colour), did it disappoint or are you still psyched about it?
♥ Vetten