Hey guys! Having a great week so far? I must admit I wish it was next week already LOL. I feel tired already, and some idiot at school made my Monday a rough one. Today has been great, and would've made a perfect start on the week (me being willing to forget about Monday), if not for a headache. This post might be a little short on info because of that. Feel free to shoot me some Q's in the comments ;)
Nfu Oh #49
It's time for another Nfu Oh :) I planned to make this entry yesterday but I wanted to take better pics so I had to do them today before work. I somehow failed to capture the duo-chrome effect at first shoot, how you can do that with these amazings I have no idea!
Nfu Oh #49 is a sheer orange base packed with gorgeous flakies. I want to try this over an orange-y brown one day, to see if I can get it to show the blue/purple effect that you can see to the left, but for now I can show you it layered over black.
I used my basecoat NailTek II, one coat Wet'n'Wild Black Creme, one coat #49 and lastly, my topcoat Fast Forward from China Glaze.
#49 is more dense than my other flakies, at least it felt so as I tried to manoeuvre the brush, making sure there was an adequate amount of flakies everywhere. It was almost a challenge not to get too many flakies on my nail, LOL, but I don't count that as a bad thing.
I wore this to class Monday and had such a hard time looking away from it; the light was PERFECT and I wish I had my camera with me (though I'm sure that would've labelled me as a loony LOL, or dare I say more loony than now? ;) ). Regardless, this is one of the polishes that will not disappoint on the nail - I admit that it looked like orange pee in the dull light whilst I opened the package the day it arrived.
Here it is pictured how it looks most of the time, the duo-chrome effect visible at all times.
Nfu Oh #49 over black creme - lightbox, flash
And my favourite view; the green side! It takes this amazing (yes, I'm using amazing as a noun. These polishes are worth it!) to a hole new level of amazingness. I've said it before but will say it again: Nfu Oh = amazing. You get 17 ml of amazing and it will last forever if you use it as a layering polish. Some of the few polishes I can wear for days without getting bored with it.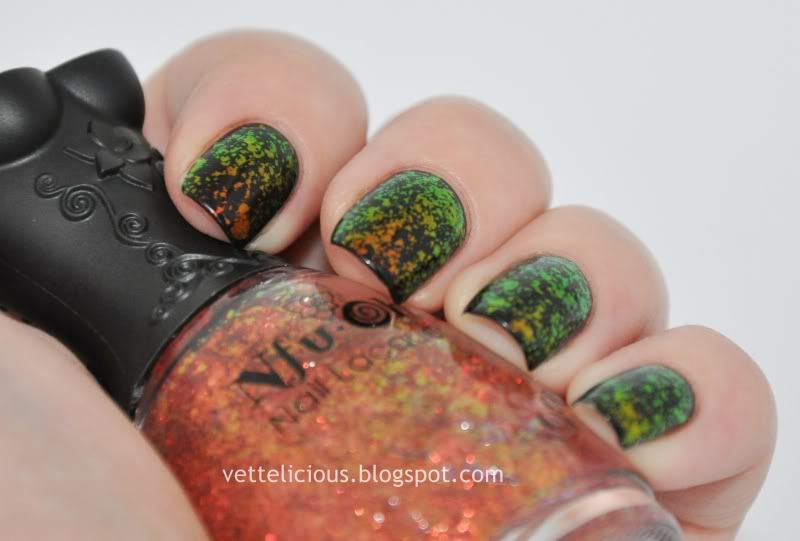 Nfu Oh #49 over black creme - lightbox, flash
Oh, btw - these pictures are taken after two days wear. I've been working and going to school, but my manicure still holds strong, and I owe it to tip-wrapping with both the black creme and the topcoat. It really makes the difference if you want your polishes to last longer :) I believe it was the talented Ulmiel who wrote a post about it? Shout in the comments if you did! x)
That's all for today, I'm off to bed to fight off a headache I'm praying is not turning into a migraine.
♥ Vetten