It's time to flash a franken I've been working on for a while! I wore this a few days ago, as I wanted to test the wear (and formula) before writing about it. It also proved to be incredibly hard for me to photograph, so the manicure pictures do not do it justice *sigh*.
Gallimimus Greyn
It's no secret that I love dinosaurs ♥ They are a great inspiration when I'm creative - this goes for polishes and drawings alike.
Gallimimus Greyn is another franken with dinosaur theme. This time it took me a while to find a fitting name (my ever so supporting boyfriend had to help me again LOL), I wanted the name to fit the colour and the dinosaur to fit it as well. Gallimimus might not be well known, but it's worth a google if you haven't seen it before (well, neither of us have - but you know, illustrations and the like).
Gallimimus Greyn is made with a bunch of different colours - my goal was to make a creamy khaki holo, that would also look good without sunshine. The result? A grey khaki creme, lots of shimmer with very sporadic holo particles in direct sunlight. I like it, though - this type of shimmer is my favourite :)
I had to use two coats for opacity - the formula is easy to work with, though I wish I had used another bottle with a better brush! It was terrible. I slapped on a hand drawn Galli on the bottle for the fun of it ;)
I took a lot of pictures of this polish in all sorts of lights. It's incredibly hard to capture, and I'd say the RL colour is a bit lighter than the colour in the pictures.
I made a mosaic to show you this colour in a bunch of different angles - and the last picture with with a little scotch tape (inspired by the scotchtape goddess Erika), and Catherine Arley 676, I believe. The daylight picture is the best I can show you how the polish looks most of the time - with silver shimmer. Sadly, topcoat took away the possibility of seeing even the slightest hint of holo, as you can see in the same picture.
Gallimimus Greyn - different angles and with different light sources.
This is how I like it the best - no topcoat and a heavy flash from my camera to pick up holo sparkles! I wish it looked the same in everyday light ;)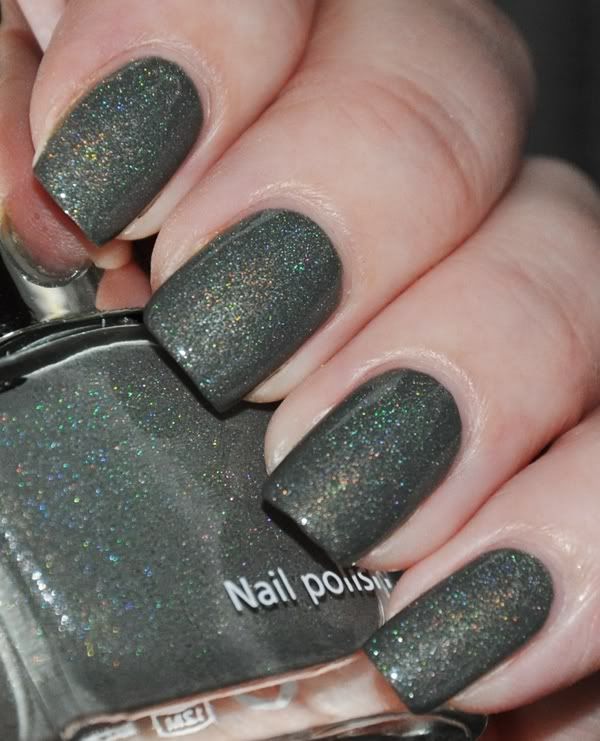 Gallimimus Greyn
Not all frankens turn out the way I want them to. Gallimimus Greyn is a bit fail, even though I like the colour, it's just not what I wanted. My quest for a good recipe to make a holo khaki is still on, LOL. Maybe I'll skip the creme part next time.
♥ Vetten