Today I'll be showing you a colour that has been keeping my nails bright for 4 days without a single chip. Granted, there is a little tip wear but I haven't used topcoat since the original manicure to try and protect it, so I didn't expect otherwise.
My Lifesaver
The colour in question is My Lifesaver - recently released from Nicole by OPI. It's my first NbOPI, and aside from the brush that was crooked (factory flaw), this polish has been an absolute joy to wear. The store in which I bought it said they'd happily replace it with a new bottle with a perfect brush, so I'll be going back next week to get a perfect bottle.
In general I'm not so fond of the bottle - I think the OPI bottle is a little bit more beautiful - but it's defnitely not the worst design out there.
I'm almost embarrassed to say that this colour was a collaboration with Justin Bieber - I feel like a fangirl and being a tween all over again. Rest assured that I bought this polish for the colour! ;)
Now, how would I get access to this colour, living in Denmark where most people haven't heard about OPI, China Glaze or other amazing brands?
A chain of stores that sells furniture, home accessories, clothing, jewellery and like recently began to carry OPI lacquers. I checked their range, and it was a little sad looking - 6 Burlesque colours and some bestsellers, but I hadn't expected more to be honest. And the price was as I had feared; almost, if not 3 times as expensive as OPI lacquers is in the US. Needless to say, I was thrilled OPI was beginning to appear in smaller danish stores but I didn't buy any for the time being.
Last week I decided to check if they were getting the Katy Perry collection, as I badly want the two glitters from that collection (which they hadn't by the way), and there it was - a gorgeous, bright creme staring at me.
My Lifesaver.
It looked odd; there was six bottles crammed into the OPI display, the bottles not fitting in the display were kind of stuck and I had to fight with it to get it in my hands. I asked the clerk if they were getting other NbOPI colours, but she said she didn't know for sure but wasn't expecting any new colours apart from these. I guess it's the store chain that decides which colours they carry, and they hit the nail by deciding to order this baby ♥ Seeing as the Justin Bieber collection is expensive on Ebay, I decided it was worth it to buy in the store. I also feel good supporting the arrival of OPI in small towns like mine.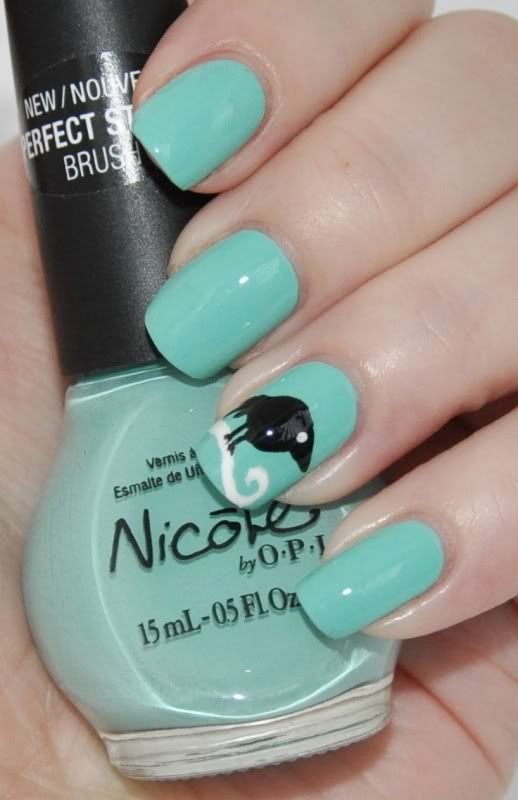 My Lifesaver - lightbox, natural light + flash
This gorgeous mint is opaque in two coats. By the look of first coat it looked like it would need three, but the second coat covered all bald spots. I drew the blackbird with a small brush and black and whit stampy polish from Essence. I used a layer of China Glaze Fast Forward to finish it, as the polish is a bit thin and you could see ridges and the like without a topcoat.
This will without doubt (unless another bright mint comes around with an even better formula), be my go-to mint this Spring/Summer ♥ It is so beautiful, bright and long lasting.
♥ Vetten