Having finally beaten my headache/migraine (sometimes it's hard to feel where one ends and the other begins), I kicked myself off the couch to try out a new polish I got yesterday... One that I loved immediately when seeing it on to-be-released posts.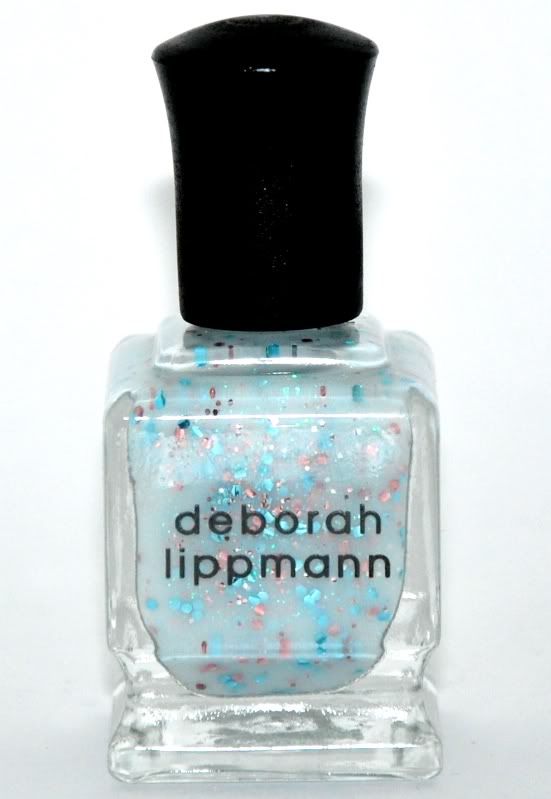 Deborah Lippmann - Glitter In The Air
The polish I'm talking about is Glitter In The Air, just released by Deborah Lippmann. Lippmann is famous for her amazing, one of a kind glitters crammed with big and small hex glitters in a jelly base.
These polishes are some of my very favourites - I don't wear them often, granted, but I treasure them dearly and save them for a day that needs something extra.
Glitter In The Air is not like the most of Lippmanns glitters - I knew as soon as I saw the bottle pics that it wouldn't be as dense as most of her glitters. The base looked creamy, on the sheer side, and I was prepared for this. If you want GITA (what a pretty abreviation) because you like dense glitters from Lippmann such as Across The Universe and Bad Romance, you're going to be very disappointed. Do not expect the consistence to be the same - just sayin' ;)
Personally, even though I adore my Lippmann glitters and doubt I could ever grow tired of new being released, I'd find it boring if dense glitters were the only kind of glitters Lippmann would make. In my humble opinion, I think she's given the polish world something amazing - her collection doesn't consist of 1000+ polishes (as I suspect OPI's does, LOL), yet she managed to contribute with some of my all-time favourites and some very unique polishes. Across The Universe is perfection. For all I know she could've continued making dense glitters in different colour combos until people would throw up rainbow glitter. I see Glitter In The Air as Lippmanns attempt to give us something new - in lack of better words, a lightweight glitter for Spring. I think she's trying to give us something new again, and I must say that I love it. In my book, GITA is a winner.
Here's a close-up of the bottle ~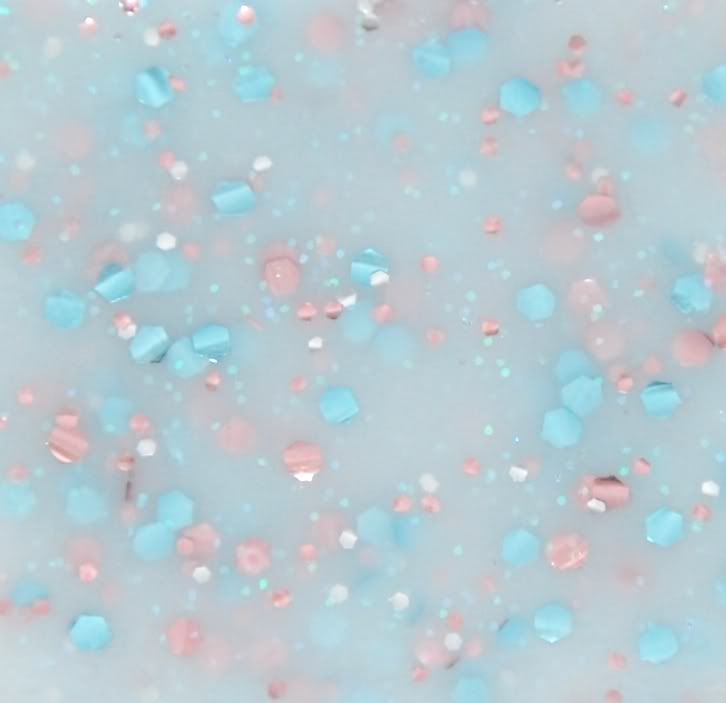 Deborah Lippmann - Glitter In The Air - closeup
I'm sorry for the wall'o'text, I just feel like protecting this amazing polish like a newborn baby, LOL. It needs the love! Enough ramblings ;)
For this manicure, I used my basecoat, NailTek II, 2 coats of China Glaze Sea Spray, 2 coats of GITA and one coat of Fast Forward. I think two coats of GITA is perfect - I admit you have to move a few glitter particles around to be satisfied. It doesn't bother me, though, as long as the end result is worth it.
And it's worth it, I think ♥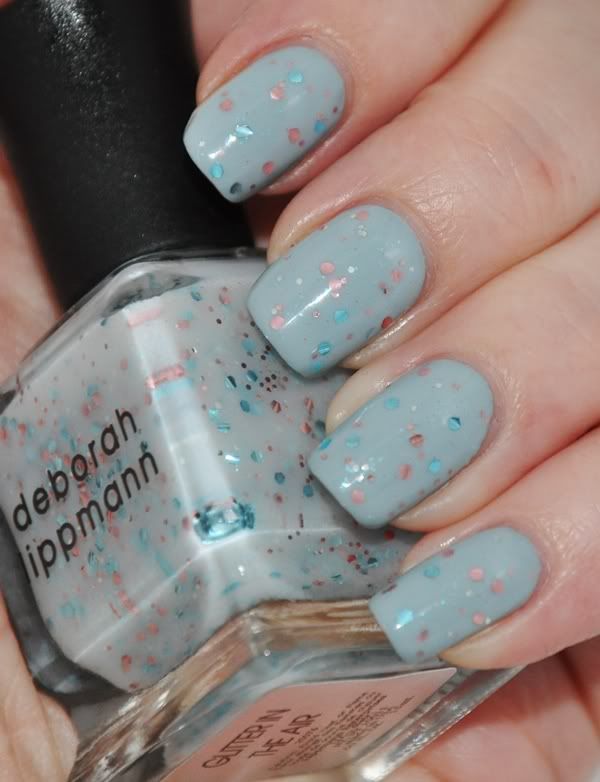 Deborah Lippmann - Glitter In The Air (GITA) on China Glaze Spray
I don't think two coats is that far away from the mani I had in mind from the promo shots ♥ I love this polish for it's uniqueness, its softness, not to mention the perfect match for Sea Spray (another way to wear one of my fav shades right now) and the fact that Lippmann has the balls to make a new kind of glitter instead of making the same type in different colours.
I'm very excited to hear your opinions about this polish :) Did you dislike the polish from the beginning? Are you disappointed with GITA, did you expect it to be like the other glitters from Lippmann or are you as much in love as I am?
♥ Vetten