Hey girls! Doing anything fun this weekend or on Valentines day? :)
Alice in Wonderland inspired stickers
I know Valentines day is an American tradition, and a lot of people in Denmark are against the concept of "adopting" the tradition seeing as it is mainly stores that wants us to spend money LOL. I like the idea behind Valentines day though (what can I say - I love any excuse to spend time with my loved ones and I love everything tacky!), and even though I'm not celebrating anything with my boyfriend, I figured I could do a manicure and celebrate in my own way ;)
I bought the stickers to the left from an internet store based in the UK,
Nailtopia
. I love Alice in Wonderland, I've always been a fan of the Disney cartoon (or the fake version I grew up with - I wish I could find it!), and with the movie released last year my love was rekindled.
I wanted a base that fitted both the red and black stickers, and thought it would be fun to use a red base for the first time. Yes, this is the first time I'm wearing a red polish! Ever! But, as I suspected, red alone isn't really me, so I found my black creme from WnW and some scotch tape :) Sorry if you think it's a bit tacky/boring I used the diagonal design again - I really like it and don't grow tired of it within a few hours as I do with funky french manicures. So be prepared to see a few of these in the future ;)
I used my new OPI Paint My Moji-toes Red as the base (after seeing it quite a few times on Neglenymfernes blog I decided it was the perfect red, and I wasn't disappointed). It covered nicely in one coat, then I used a coat of Fast Forward topcoat, then did the diagonal with scotch tape and my black creme, added another layer of Fast Forward, and then I was ready for the stickers! I used a layer of Fast Forward on top of the stickers to prolong the wear of them.
OPI Paint My Moji-toes Red + WnW Black Creme
For the first time in - well, maybe the first time ever - I decided to include a picture of my right hand of the end result :) It took me a while to paint properly with my left hand, but I think I got it now.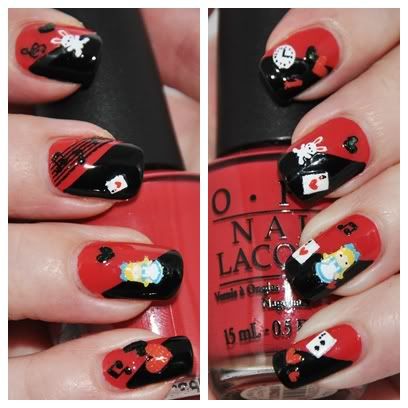 Right Hand | Left Hand
I'm thinking of cutting my nails short soon, but I feel like these long canvases are just too much fun to shorten, LOL! There's room for much more nail art :)
The stickers are really fun to work with, and again they're rubber-based so they can be stretched to fit (which was very nice with the note-thingy as I cut it a wee bit too short). All in all I'm very pleased with these and don't regret paying a little bit extra for some high quality stickers. It's a shame they're one-time use only though, as I'd love to wear Alice quite often :) I'd say there's enough for two manicures in one sheet.
♥ Vetten