Crackle polishes are really in this season. Isadora and Barry M released crackle polishes Fall/Winther 2010 and this spring we are seeing crackle polishes from many companies - such as OPI, China Glaze, Isadora and Depend.
Depend Crackle Polish
Today I'll be showing you three of four crackles I got my hands on last week from Depend - I went to a store carrying the brand and when I saw the display it was already half empty.
White and black crackle was gone, there was one pink left but oddly - the most interesting colours were still there! I already have a black crackle from Barry M and plan on getting the entire collection from China Glaze when it releases, so I can honestly say I was super psyched about getting a pink, red, purple and blue effect crackle ♥
While crackle is not something I'd wear every day, I'm sure I'll be using the lighter shades (and pair the darker ones with lighter shades) this summer - I think it really stands out in the sun. I was lucky enough to catch a few sunbeams today, so I can show you these in their full glory.
I wanted you to see them on both a dark base and a light, so I used Wet'n'Wild Black Creme for the first swatch and GOSH Gypsy Blue, Depend purple and Depend white for the last swatch.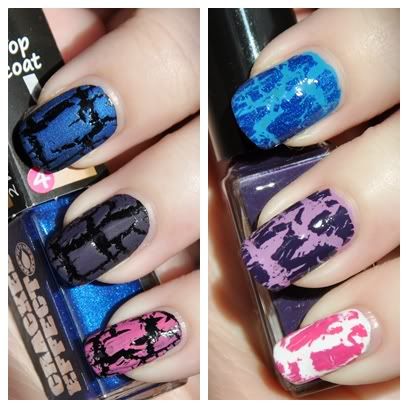 Depend crackle polishes - left is on dark base without topcoat, right is on light base with China Glaze Fast Forward. Natural sunlight.
As you can see, they are quite different on dark/light base colours!
Blue Crackle
The blue crackle is packed with gorgeous shimmer that really glows with a topcoat. Unlike the P2 silver shimmer crackle polish I bought in Germany (which was a pain to work with), this one has a great formula and it was easy to apply in an even layer. It looks amazing on both light and dark base colours - and it's quite a unique shatter since it's got shimmer. If you must pick out one of these, this one's definitely the most unique.
Purple Crackle
Purple is the most opaque creme of the ones I have, and again the formula was great. I love how subtle the purple is on black - it's definitely a combination I'll be using for an entire manicure, and the pale purple/dark purple combination? Perfect for a sunny day this Spring!
I don't like how the pink crackle looks on white, so I will have to try out a few other colour combinations for that one. It's a bit more sheer than the rest and the formula is a bit thinner too, making it is a bit see-through on black (but still looks great if you ask me). Even though it has a thinner formula, I still find it easy to work with.
In general I am very happy I got a chance to buy these before they sold out. Best 5-6$ I've spent on mini polishes (each) for a while! If I find the white one I will pick it up, as Depend makes some great opaque whites.
What is your opinion on crackle polishes - and what do you think about the colours from Depend? :)
♥ Vetten