A big thank you to RijaH for showing me
THIS
amazing tutorial / how-to, I decided to focus on my cuticles yesterday and use my cuticle remover for real this time. And I'm pretty pleased with the result! I also used cuticle oil 3 or 4 times during yesterday and today, as Serena kindly advised me to try in addition to hand cream :) Next up is ordering some Lemony Flutter and Essie nail polish remover, but that will have to wait until next month. I will continue using cuticle oil once a day until then. I will also leave a little extra space between the cuticles and nail polish line so it's easier to pamper 'em, LOL!
I couldn't help myself when I was grocery-shopping yesterday, and I went into Matas (a beauty store)... And I went out with a new polish. It's a gorgeous grey, and when I got home I decided to line 'em all up and see if I've really been hoarding these as I suspected.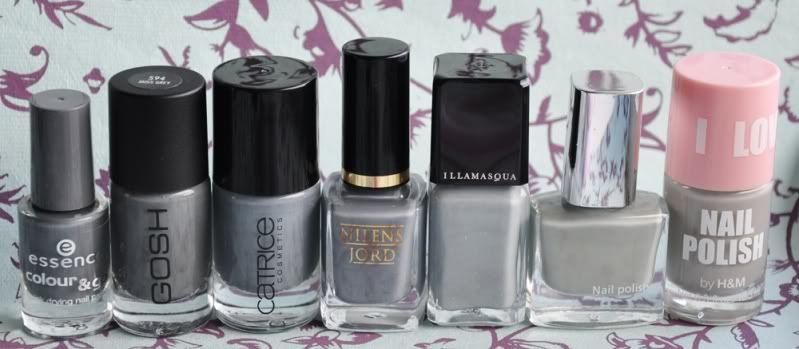 Moviestar, Miss Grey, Londons Weather Forecast, #666 *new*, Raindrops, no-name & Happy Grey
I don't think it's that bad, I thought I had more grey tones! Anyway, #666 is my first polish from Nilens Jord, a grey creme with subtle silver shimmer. It's leaning towards a blue tone, which I think is stunning. I used two coats, although one thick coat could've done the trick. Nilens Jord is 3-Free. If you ask me, this is the kind of colour Chanel should've done instead of the baby blue and pink!
I'm sorry that I don't have any good lighted (?) pictures to show you, but it's incredibly dark and dull these days. I hope my bathroom pics will do for now.
#666, pic taken with flash
#666, no flash and very blurry. At least you can see the shimmer in the bottle, eh?
And today I decided to try out my dotting tool for the first time... And I failed miserably. I thought it was idiot-proof but apparently I'm a moron! I can't even make even sized dots, LOL! I think the design looks good on distance, and if done better, would look amazing. I was inspired by a tutorial done by the talented girl at
Daily Nail
. My dotting tool is however much smaller so I did them a lot closer to each other, and then I didn't think the coloured accents wouldn't look good so I settled for three white as added detail.

I'd better go invest in some proper dotting tools...
~ Vettelicious