As it is on my nails! I decided to make a quick konadicure tonight while watching Simpsons. Admitted, I am exhausted from work and a very nice trip I went on afterwards with my mom. We went shopping in a town nearby and they had LOADS of nail polish goodness. I bought like 18 bottles or something! Will post pics soon ;)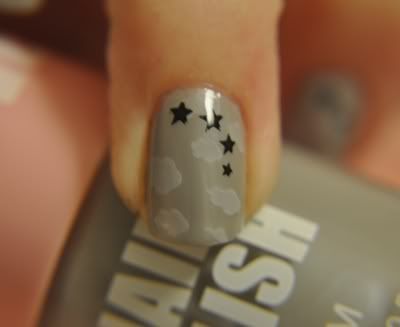 One of my finds were a H&M colour called Happy Grey - I bought the two other one released together with it, Happy Purple and Happy Pink, and when I got back to the store nearby to pick up the last, Happy Grey was sold out. Bummer. But the H&M in the other town had just one left, yay! So of course I picked it up. Felt like polish fate LOL. Grey Sky has a subtle shimmer, not visible in the bottle but on the nail you can just make it out. Sadly, my pics weren't good enough to show it.
Happy Grey brings me to today's mani - I used Konad plates M3 and M79 to add some clouds and stars to the grey sky.
Excuse the bad pictures, my fingers looks yellow/red spotty, and the blurryness is my own sloppyness. I'll do better next time!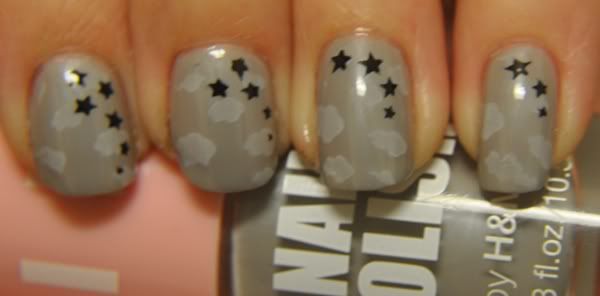 Happy Grey
Happy Grey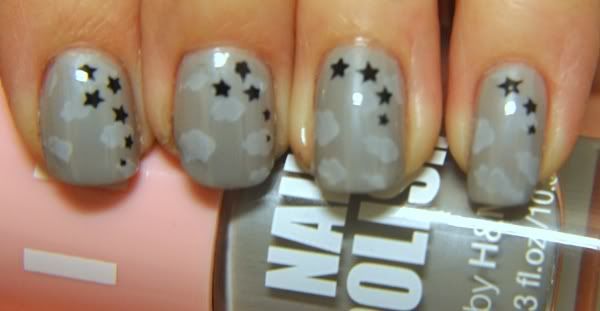 Happy Grey

*edit to add* Come to think of it, this colour is pretty close to the Deborah Lippmann colour Lady Gaga wears on the cover of Vanity Fair. Maybe that's why it sold out so quick?


That's everything I have for you today. I think i will spend the rest of this cold, wet and cloudy Monday under a blanket with a cup of hot chocoa!
~ Vettelicious