And weekend means yay! :) I have been looking forward to Friday since Monday morning, LOL!
Wednesday afternoon the mailman brought me a package - containing China Glaze Atlantis and Funky Fingers Moonwalk! Pics of the gorgeous holo sparkle goodness soon, I forgot to take bottle pics yesterday.
I'm a little late showing you this mani, as I put it on Wednesday. The reason for sparkles on my nails on a working day? A family dinner at my parents place! I'll take any excuse for wearing new nail polishes ♥
Anyhow, I was actually quite disappointed with it. Somehow China Glaze's Atlantis doesn't look good on a sea green base. It reminded me more of a plastic christmas tree with too much bling on it, but I didn't have time enough to make another mani (you know how stubborn glitter is when it comes to removal!) so I decided to give it a chance. It didn't grew on me. Atlantis is beautiful in the bottle, so I'll try again with another base one day. And more layers of glitter to make that deep effect.
I used this no-name sea green as base (middle one in the pic) it was very thick and hard to apply, but a great colour on it's own.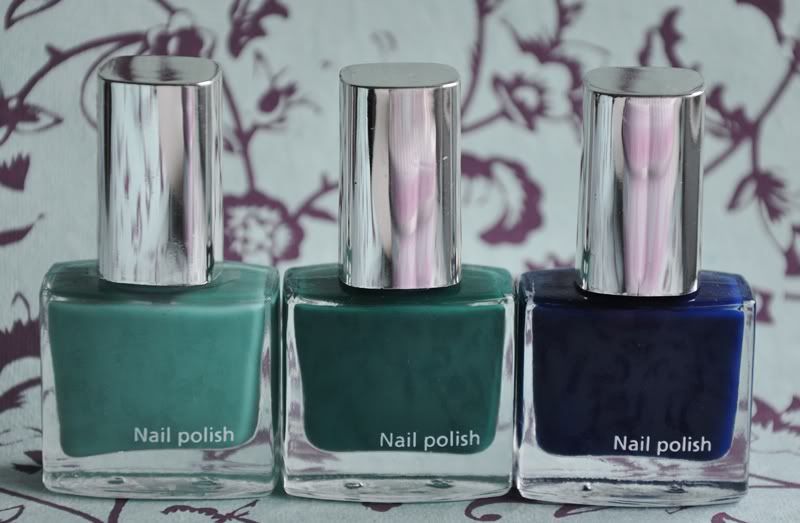 Not as smooth as it is pretty! Sea green base, middle bottle
1 layer of sea green base, 1 layer Atlantis and 2 layers of Seche Vite topcoat.
Here's the manicure result ~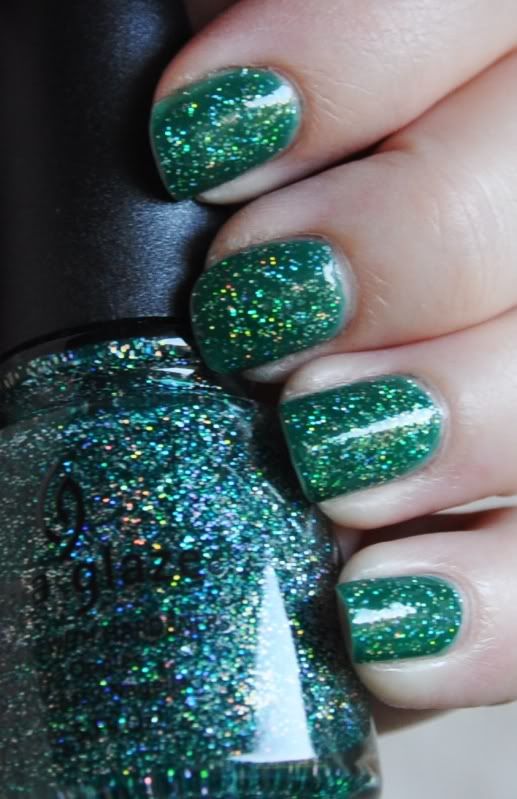 China Glaze Atlantis - no sunlight or flash
China Glaze Atlantis - holo glitter goodness!
Thank you to all of those who follow and comment on my blog - I really appreciate it! You guys makes it worth it sharing pics and new additions! ♥
I also want to share my excitement about not having broken or chipped a nail for an entire week! This is quite the record for me, through weeks that I'm working! ♥ My nails are usually very brittle and I'm always chipping a thin layer off, which is very annoying (and makes the nail even more brittle). I'm sure it's a combination of the base and topcoat I switched to - NailTek II Foundation (ridgefilling) and Seche Vite fast drying topcoat. And the fact that I take a little more care while working, not ripping too many cardboard boxes open without a knife LOL!
Now that I've shared the good news I'm sure I'll break a nail soon... But I'm willing to take that chance! I had to let it out :)
Right now I've just put on Mad As A Hatter but you'll have to wait until tomorrow with pics of this beauty! It's too dark and bathroom pics just ain't good enough for this polish ♥ ♥ ♥
♥ Vettelicious