Hey!
I don't have much to show you, I've had the worst migraine for a few days and haven't had the energy to do my nails. My Zulu & Nfu Oh mani is still looking great with only minor tipwear, thankfully.
I thought I'd make a post with my recent buys - if you see anything you'd like swatched, throw a comment below and I will do so :)
First, I received my prize from winning a nail art contest at NegleNymfer ~
Thank you so much girls! I love all of them, the small brights are great for patterns and I was very excited about Sinfull Senorita, which is a holographic polish from H&M! ♥ I'm saving it for a sunny day.
I purchased three of my major lemmings when I found them for sale in the same store - and cheaper than in the brands own stores! I am SO excited about all of them!!
NARS Zulu, Midnight Express, Butter LONDON Jelly Stroppy
I also ordered some cremes from OPI, China Glaze and Essie - along with a Holo from Nubar and Galaxy Girl which I've shown you before ~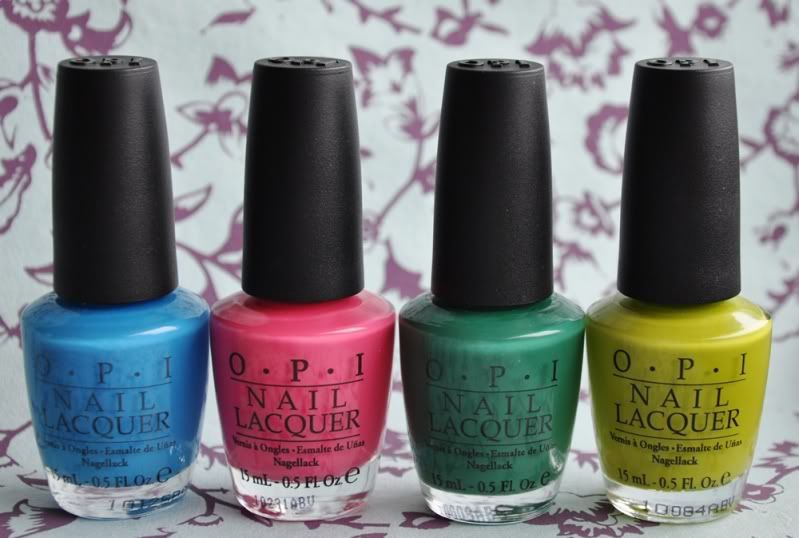 Ogre the Top Blue, Feelin' Hot Hot Hot, Jade is the New Black & Who the Shrek Are You?
Pink Underground, Recycle, Galaxy girl, Reclaim & Pretty Edgy
These I bought from a blog sale ~
Bored/Excited, Peaceful/Confident, Flirty/Shy, Sea? I Told You! & Enchanted Forest
I bought these OPI Minis, and I would love to know what they're called. I'm looking forward to trying the middle one, it looks funky!
Can you help me name these OPI Minis?

I have a few other polishes I received a few days ago, but I'll wait with those - some of them will be featured soon! :) I'm sorry I'm currently flashing my hauls more than my nails.. I hope I get over this migraine soon!
~ Vettelicious