Today I decided to slap on some new colour on my nails, having grey/black is neat but I desperately needed some colour to cheer me up! I've been wearing my grey manicure for a few days, I ended up liking it a lot actually, despite the flaws and shape irregularities :)
I recently received a package containing 7 cremes I've wanted for a little while - I've been buying so much glitter that I finally felt like less could be more (and it certainly can). I will get a picture of the haul soon :) Some of the colours I got is Jade Is The New Black and Who The Shrek Are You from OPI and Recycle from China Glaze, and all three are featured in today's simple design. And yep, I'm failing miserably at sticking to my no-more-polish-until-Germany resolution, but it feels so good buying polishes! I love colours, what can I say ♥
After using Orly's cuticle remover, I applied my Nail Tek II base coat, 2 coats of JadeITNB and added several dots with my non-dotting-tool-that-I-use-for-dotting-anyway - tool (LOL) of Shrek and Recycle. Jade is a very calm yet funky green, a great green creme for all kinds of manicures.
Here's the result! I think I'm getting control over my cuticles, pampering them like babies for the past few days they are starting to behave better LOL. If only I could get my middle finger nail shaped as the rest of them, it looks so square around the cuticles. Any advice, or do I just live with it?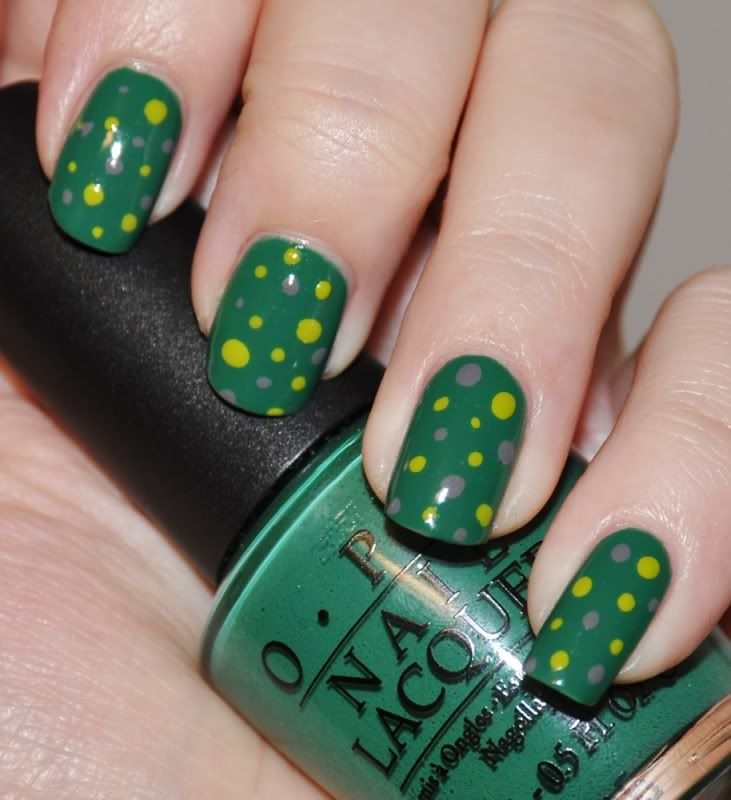 My nails looks like they have several different lengths! I blame the crooke way I held my fingers.
OPI Jade Is The New Black
I really need to learn to place my fingers better! They are either pressing down too hard or placed wierd. Maybe I'm just not meant to do bottle shots LOL.
I applied the top coat (Seche Vite) too soon after the base of Jade and again after the dots, so there's a billion of small air bubbles. Thankfully Seche does a great job smoothing them out at least.
Friday there was a lovely rainbow outside our kitchen window, I took a picture so I could share it on a rainy day (and today sure has been!). :)
Rainbow! I was looking for the My Little Pony writing when I first saw it ;)
And last but not least, welcome to my new readers! There's already 15 people who thinks my blog is worth reading, I'm very flattered ♥
~ Vettelicious