It's been a few days since I put on this polish, but I've been busy with work and stuff. It's been a good kind of busy though :)
Anyhow, this time I was in the mood for peach polish - so I grabbed my Moody polish from Claire's called bored/excited. It took three coats for coverage, which is a bit annoying. I prefer two coats, and unless it's an awsome polish worthy of three coats, I don't use three coaters. But it's changing colours! It just might be reason enough to use it again :) I applied one coat of Seche Vite to add shinyness. It dries to a neon matte finish.
Claire's Mood Polish - warm fingers
Getting a bit chilly ~ or should I say excited? LOL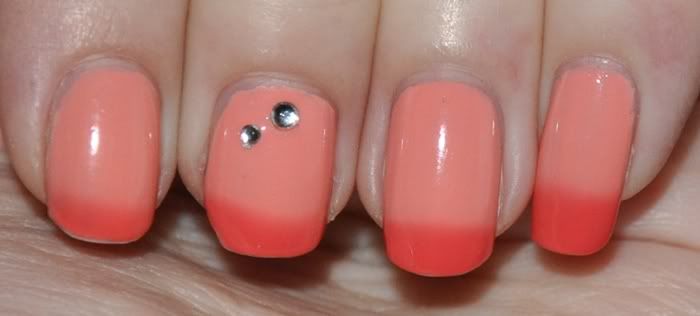 Is this not magical?
FYI - my nails broke before the last picture, so that's why they look a bit sad. On top of that, my pinky and ringfinger is much longer than the rest LOL. They must grow faster as I cut them all in matching length last time!
I have a lot of fun wearing these - watching my nails constantly, LOL. Just like wearing holographics on a dull day and then suddenly catching a ray of sun - it's jaw-dropping!
Today I'm wearing a new colour (this pretty didn't survive my cleaning and dish-washing chores), and it's a very special one - I do miss the colour changing part, I have to admit! I'll put up pics when I've had time to give my cuticles some TLC.
Until then, have fun and enjoy your weekend!
~ Vettelicious