It's time for a review!

I was super excited when Viva La Nails sent me an email with the offer of reviewing their new Water Decal Nail Wraps - all I had to do was pay shipping. I've wanted to try full nail decals for a long time, but the price always stopped me. Of course, I caved when offered them for next to nothing and ordered them! :)
I got 8 different designs and I decided I shouldn't try my favourite first as I have no experience in using these. The design I'm showing here is called #09. It features beautiful watercolour-like purple flowers. If it wasn't because I don't have much clothes to match, I would've kept these for a special occassion - they are really pretty. I think a lot of these designs have a tendency to look printed - like you can see grains and white dots upon close inspection, but I found the ones I received were well done. #09 was the only one showing small white specks on macro shots. It is much less noticeable in real life.
Each set comes with 10 nail decals in 3 sizes as far as I could see - 2 small, 6 medium and 2 large. I totally lucked out when they designed these; they match my nail width really well! All I had to do was cut them length-wise.
They cost 2.95£ and there's a lot of cool designs to choose from - I'm particular fond of the sugar-skull theme <3
Let's take a look at the instructions;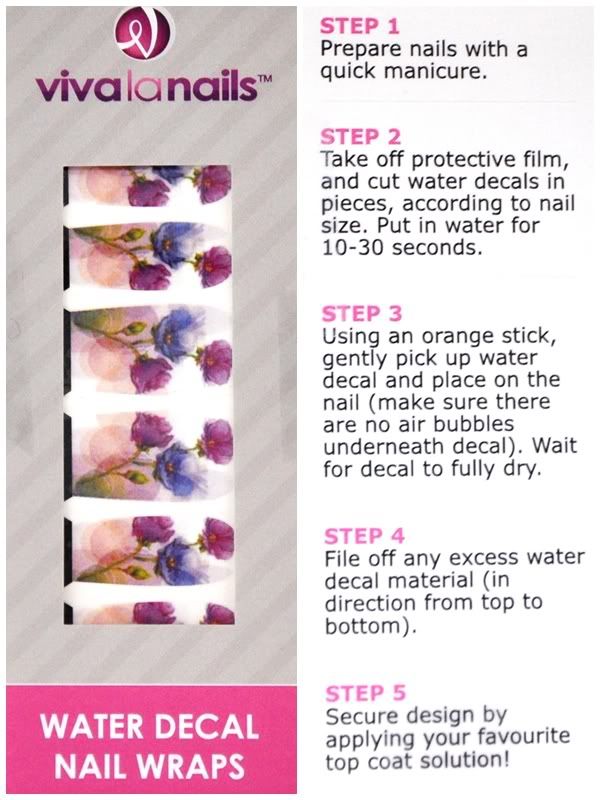 Viva La Nails Water Decal Nail Wraps
I recommend taking one of the decal-leftovers (one of the black parts you're not using anyway) to practice with on a nail-wheel or something else that is non-absorbent before using these. Remember, there's only 10 in the package so no place for screw-ups ;)
Not sure what they meant with a quick manicure, I decided to use a basecoat (NailTek II) to be on the safe side. Having tried these, I recommend using a ridgefilling basecoat as the decal itself is thin and will show ridges and other imperfections in your nails. I then proceeded to cut the decals to be 1-2 mm longer than my nails, and started applying them one by one.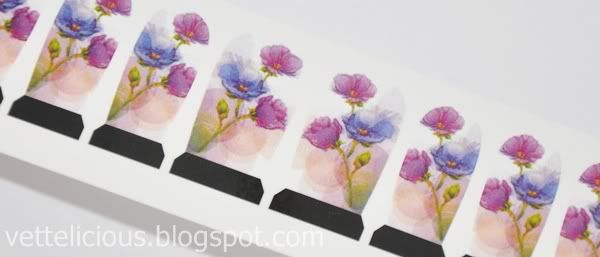 Viva La Nails Water Decal Nail Wraps
I found them very easy to apply - you have a long time to place them correctly and smooth out wrinkles and air bubbles. I used my fingertips for this initially, but it was much easier to smooth them out with a q-tip. I worked from the middle of the finger and outwards to the sides.
Once the decals was dry and stuck to my nails, I filed off the excess holding my nail horisontally and my glass file vertically. I made sure there was no "loose" ends where the decal had lifted from the nail. If there was, I found it easy to fix - a warm breath and a firm press would attach it! Lastly, I applied my topcoat, China Glaze Fast Forward, and even though I kind of tried to get the decal to smear, it didn't happen lol. I wanted to test them, remember? :) I ended up having some wrinkles, but they were almost invisible when I applied topcoat.
Now I think it's time to show you the results! Remember this is like 10 times real size, so any imperfections shown here was honestly invisible in real life ;)
Viva La Nails Water Decal Nail Wraps
And another shot of these;
Viva La Nails Water Decal Nail Wraps
I love the result! ♥ And the best part? I wore these 4 days, and there was only tiny wear on some of the nails when I decided to remove them (I used my regular polish remover). I didn't even use topcoat every day to renew it... Now that's something worth your money! These will probably last twice the time if you'd like; I'm a polish freak so I had to make a new manicure after four days, lol. Maybe they'd last up to 10 days with a new layer of topcoat every now and then? I just might have to put another set to the test! These will be great for travelling.
There's only one thing about these I'm not thrilled with... The fact that you get 10 decals. No extras for screw-ups. Granted, these are hard to screw up, but still... What if the mailman rang the doorbell with nail polish packages while I'm busy placing one of them on my nail? LOL
All in all, I am very satisfied with these. They are easy to use, good quality and above all; they're fun! It's a nice change from plain colours, no unpleasant smell (very convenient for when I have a headache), stamps and nail art - I will never have the patience to paint something this detailed on all my nails. If you're thinking of trying decals, I can definitely recommend these!
What's your opinion on these - yay or nay? :)

♥ Vetten