Not too long ago my first nail polish related package from Australia arrived. I am so excited to show you this polish, even though it's been my most expensive single polish since Clarins 230, it is so, so worth the money.
Ozotic Elytra #528
I think it goes without saying that Ozotic Pro is the brand you lust for if you like duo/multi chromatic polishes. I have wanted to try this brand for a long time, but it wasn't until I discovered
Picture Polish
, online store (and international shipper!) that I thought it possible ever getting my hands on them. A big thank you to
You've Got Nail
for showing these and linking to Picture Polish :)
#528 is part of a collection of 3 new shades Ozotic just released, called Elytra. It's an incredible multi-chromatic glitter, flashing in turquoise, blue, purple, pink, orange, yellow... Trust me when I say that this is a polish worth the pennies!
I used a black basecolour for this manicure, as I doubt #528 is buildable. I don't mind, though, many of my favourite polishes are sheer messes on their own, it's the combination of a kick-ass effect and a calm base that makes them my favourite, I think :) I used two coats of #528.
Onto the pictures! Of course the first thing I did when it arrived was making a ring, so I'll flash that one as well ;)
Ozotic Elytra #528
And a few pictures combined of the many faces this polish has...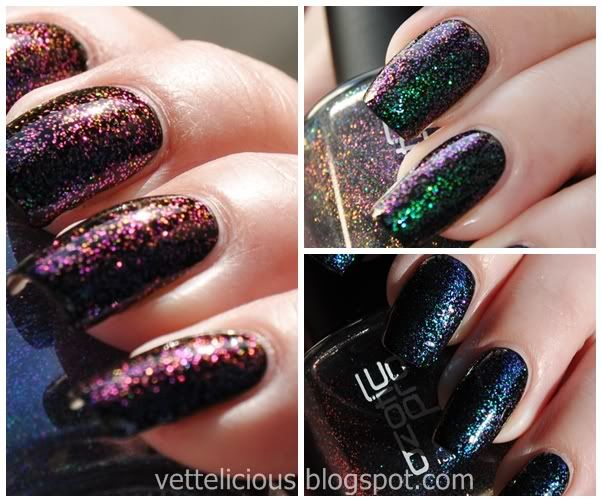 Ozotic Elytra #528
And the matching ring..
Ozotic Elytra #528
I'm in heaven. This polish doesn't a huge speak, the pictures say more than I could ever express ;) I hope I can get more of these amazing polishes in the near future!
This polish rocked itself on my top-5 polishes. What do you think about it?
♥ Vetten