I'm thrilled to show you a lemming I got ahold of not too long ago; Orly Iron Butterfly! I believe it was released in 2009, it was part of a collection of three metallic mattes called Metal Chic. It wasn't until April this year I saw it, looking through old Orly collections online to see if there was anything I missed. It was love at first sight. And this polish (and hunt for the same) made me realize once again how madly obsessed I am.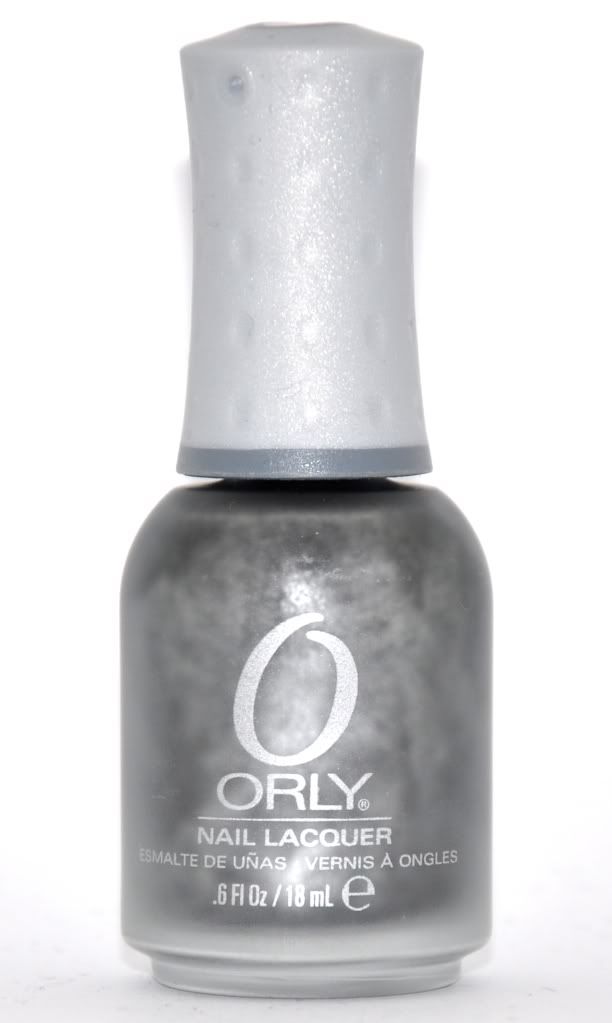 Iron Butterfly
Iron Butterfly is a black-ish base packed with silver shimmer. It's kind of like Suede polishes from OPI, being that it's heavy on shimmer and dries matte. It must have loads of dupes, but I wanted this one... Call me crazy. I'm curious to see how it compares to Manglaze's version, but I don't own theirs.
When I started obsessing about nail polish, I wasn't too keen on Orly bottles. The design just didn't look good to me, lol! They are very practical and so easy to handle, which is the most important part doing your nails anyway ;) And I must admit, having obtained this lemming, I found myself admiring the bottle picture I took. Doesn't it look just ever so slightly magical? The shimmer shines through the matte bottle... ♥
Anyhow, once I fell in love with swatches, this polish was hard to find. I didn't find a single bottle on Ebay or Transdesign, and my heart sank a little. I knew it would turn up on ebay eventually but I wanted it like yesterday, lol. I desperately started to search the internet for small nail polish stores, and I found it in SpiceBeauty UK's webstore.. I believe it was the last bottle, even - I call it meant to be, LOL! ♥
This polish has an amazing formula. Even though it's matte, it's very easy to work with - and if you're good at levelling out layers, one will do the trick. I used two to protect my nails, after all I was going to leave it without topcoat. I used NailTek II basecoat as usual, and it didn't give me any problems :)
I decided to add an accent finger, I'm really starting to like wearing those! I love the colours I chose, they are a great combination though it does look like a bugger from a long distance LOL. Oh well ;)
I used OPI Stranger Tides & Mermaids Tears, Gosh Yellow Doll and Essence Stamp Me! in white and black. I sealed the owl with Fast Forward, so in real life it's glossy (and the black and white dragged a bit, urgh!) and is a great contrast to the base.
I'm loving mattes/suedes right now, and have a few more on their way to me. I think I'll be wearing mattes a lot this season, it's a nice change from jellies, sparkles and shinies!
Do you like Iron Butterfly, or is it old news? I've only been nail polish obsessed for a year so I have a lot of catching up to do ;) Is there any mattes/suedes I should get before they vanish from shops?
♥ Vetten