I thought it was about time I used my stamping plates again :)
Lately I've been far too lazy with my manicures. I want to be better at using my stamps and do free hand designs too, and I have two reasons. 1, I want to be better, and 2, I feel like this blog is a little boring with boring swatches showing my one-colour manicures. So, I hope to improve on this!
I started with Color Club Wild At Heart (I have two of these, this is the less holo version), one coat was enough, then I stamped the bows with a fake konad plate using Rimmel - Rock Republic (great for stamping!). Lastly, I added dots using a dotting tool, failing miserably at keeping them the same size. I really suck at dotting!
Sunlight shot to show the holo-esque sparkles;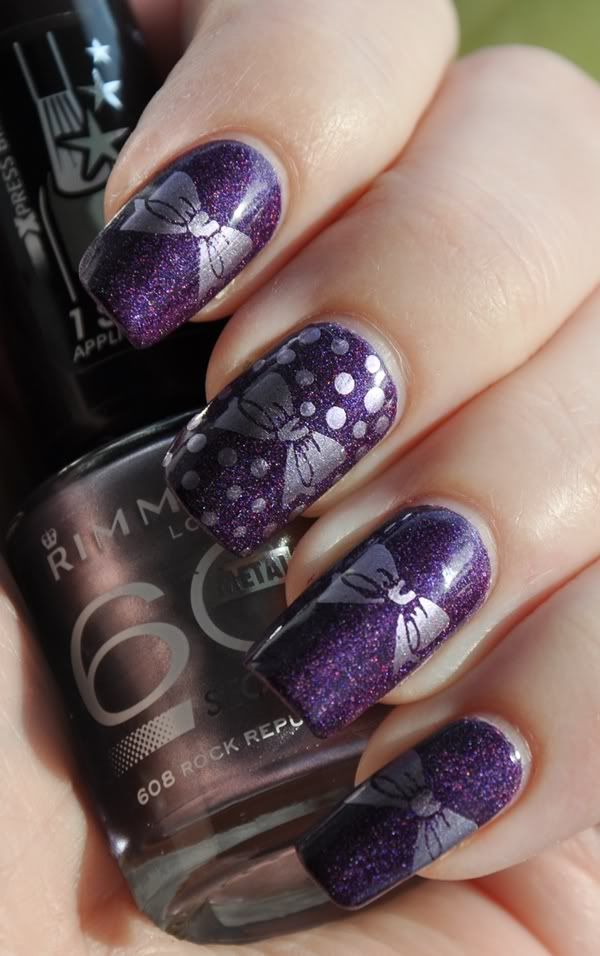 Wild At Heart + Rock Republic, sunlight
And a lightbox picture for better looking cuticles, LOL! This thing does wonder for my cuticles on pictures ;)
Wild At Heart + Rock Republic, flash
My topcoat dragged a few of the stamps/dots, but it's less visible IRL. I hope you like it anyways, it was a simple design to get me started on stamping again :)
♥ Vetten