I really feel it's about time I write a little thank you :)
This blog has become such a big part of my life, and it means the world to me that people continue to find time and want to check out what I do. Your comments always make me smile and can save any day ♥ You make me strive to be better, more creative and above all remember to have fun. So thank you from the bottom of my heart... It sounds so cheesy, but I mean it.
I will try to be better at answering comments/questions, but it happens I forget. Don't hesitate to throw (another) email after me, if I don't reply - I always intend to but life gets in the way every now and then.
I've been asked to make a post on what I use for nail/cuticle care, so I will be working on that during the next weeks. If there's anything in particular you'd like to see/know, LMK in the comments, okay? :)
At work today I broke a nail - I cut/filed them shorter 2 days ago, and now one of them is incredibly short. :( I wish it was just a corner that broke, but no, I had to cut it down completely. Urgh... I will wait a week before filing the others shorter; this length looks terrible on me. I'm even thinking of using a fake nail while it grows out, LOL! What do you do when this happen?
Oh, and so this doesn't end up as a picture-less post, let me show you what I received this week... Nfu Oh Fakies, LOL! The bottles are a smidge smaller than Nfu Oh bottles, and the lids are of much cheaper quality. Still, I think they're pretty neat! They smell absolutely terrible so I'm sure they're toxic, and thus I'm not sure what to do with them. I try to be as picky as possible regarding nail polish ingredients, but I am thinking about trying these outdoors one day. I love me some glitter, especially hexagon! ♥ If all else fails, they were cheap enough to use for frankens.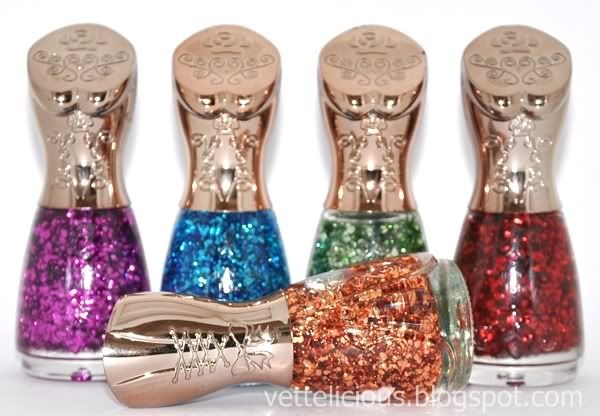 Glitter Polish in Nfu Oh looking bottles
I will have a NOTD up later I hope :) Until then, take care!
♥ Vetten