I can hear the rain on my window, it's been pouring down all day. I decided that since I was going to stay indoor, I might as well make use of my camera and take a few pics for the blog.
I want to start by sharing my latest purchase - a flaky polish from Gosh called "Rainbow". I would like to thanks Neglenymferne for showing this polish; without the recommendation I would've never looked twice on it.
GOSHs Rainbow
I had to try it as a topcoat on another polish, and since I put on Rimmels #825 Sky High the day before, it was quick to do a test. And boy, did I like the result (see further down for the results).
I purchased Sky High last Friday, I was on a mission to find a certain purple/lavender-ish nail polish (which I never found, btw - but I'm still searching!). I've always LOVED teal coloured clothing, and ofc I had to get a polish to match!
I don't like the texture (it's on the thick side) and the wide brush was awful to be honest. It took me 2 - 3 layers to cover. Still, it's a colour I will use every now and then (especially when I manage to get a hold of another brush..), and it did dry faster than most of my other polishes! If you like teal, this is the colour for you!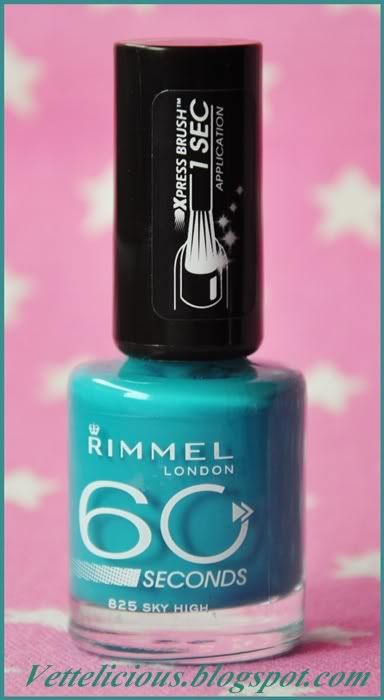 Rimmels #825 Sky High
And the results of Sky High + Rainbow:
I smudged it because I was in too much of a hurry to take a picture! D'oh. Here's a closeup:
It looks like flakes from opals... Sooo pretty! <3